So, Sega finally decided to give Sonic the Hedgehog the treatment that was obvious for all of us and turn the blue hedgehog into an endless running game star. The game's name is Sonic Dash and is now available as a free download from iTunes. Let's see how the transition to the mobile devices went in this Sonic Dash review!
Good ol' Sonic is now all 3D and ready to run. In the game, we have all the elements that we are familiar with from past Sonic the Hedgehog games, like crazy running tracks, tons of rings to collect, enemies that stand in the way and incredible jumps – all the ingredients for a great game. Add to that a good set of power-ups and upgrades ready to buy and you will have many reasons to like the game.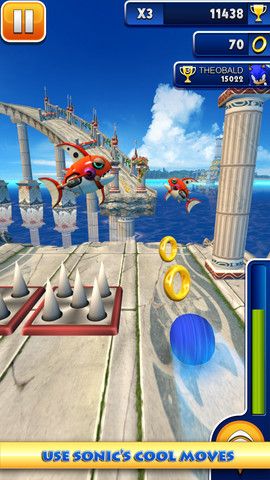 For some reason, it even seems to be different compared to all the other endless runners even though I can't really say how: there's clearly no innovation brought in by the development team except for the shape of the tracks. Usually, the endless runner courses are mostly straight, with your regular left or right turns every now and then. In Sonic Dash we have curves and hills to climb which is probably what makes it look like a truly innovative game. However, this bonus element does tend to get confusing – many times I ended up hitting an obstacle in a curve just because it wasn't obvious to me on which of the sides it was. But still all those curves and hills and anticipation add up for a solid endless running game.
Regarding the controls, you have your classic scheme: not tilt based, but touch based, you swipe your finger on the screen left or right, up or down to have Sonic perform his moves. This goes better than the tilt controls for the type of runner Sonic Dash is: an extremely fast paced one where combos can be executed and power dashes are common. So really for the few people that still consider that endless runners are crap without tilt controls, play Sonic Dash and you'll see that you're wrong!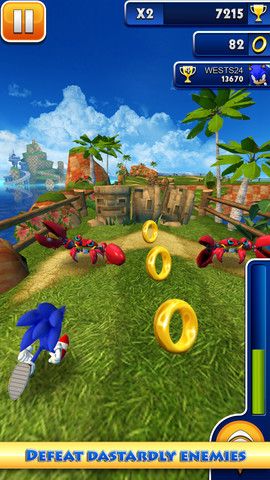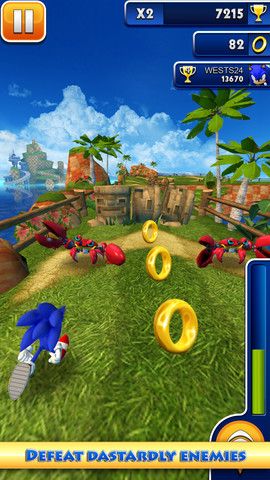 Overall, Sonic Dash doesn't bring any shame to the Sonic heritage and delivers an interesting and pleasing experience. It might make you a bit dizzy every now and then, but with practice and a lot of patience, you will get far. And then farther and farther as you keep playing, which is something you'll most likely do once you install Sonic Dash and start playing.
iTunes Link: Sonic Dash