Lilith Games is planning to bring a new update for Rise of Kingdoms, taking the game to version 1.0.10. The new update will have a name: The Karuak Ceremony and it will introduce a host of new content, as well as various fixes and goodies. And, as always, we have all the details so that you can better prepare for the update.
And trust me when I say this: there are some really BIG new things incoming, so you'd better read on for all the details.
1. The Karuak Ceremony
This will be a new limited time event that will launch in Rise of Civilization. It is an event revolving around cooperation between alliance members – so if you're not in a great alliance yet, make sure to join one!
You will basically be allowed to summon, using Action Points, Karuak challengers of increasing strength.
Initially, you will be able to beat these alone, but since their difficulty increases, you will have to rally some of your fellow alliance members' troops to defeat them. And once you reach a certain stage, you will unlock an Alliance Boss that will be even tougher to defeat.
There's also talk about "limitless treasure" in the Karaku Kingom for all those who earn the title of "Kau Karuak" from defeating all the challenges in this limited time event. But even if you can't get there, you should do your best to get as far as possible!
2. The Alliance Shop goes live
Finally, this brand new update will deliver a feature that many were waiting for: The Alliance Shop. Unfortunately, previous donations won't matter and everybody will start from scratch in order for all to have an equal chance and keep things as balanced as possible.
In order to use the Alliance Shop, Rank 4 officers and above will have to purchase items in the alliance shop using alliance credits.
Once these items are unlocked, the members of the alliance will be able to purchase them with individual credits (which are added by this update and related to the amount of donations to the alliance). Really cool!
3. New graphics and decorations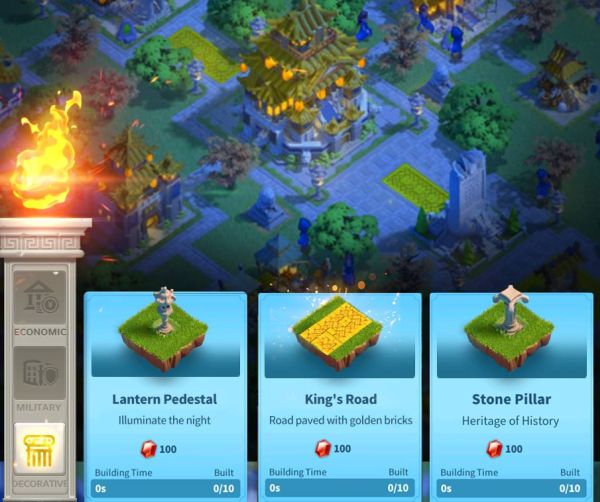 With Halloween closing in, there will be some Halloween-themed content available in the game as well, including new decorations for the city and "golden brick" roads.
4. New commander skills
You might still be working to fully develop your commanders, but the real top ones will be allowed to be upgraded even more.
This will be done by the introduction of an "Expertise" skill to all Epic and Legendary commanders, which is basically a new bonus that you get after maxing out all the commander's regular skills. A lot of work do get there!
5. There are also other less important changes coming with the new Rise of Kingdoms update, like a new VIP store, improvements made to general gameplay (such as a "collect all" feature for alliance gifts or a teleport preview), and brand new events added to the kingdom's development history.
This is it. A lot of great stuff to be released with this new update and I personally am extremely happy with all the content here.
We're talking especially about the Alliance Shop and the Expertise skill to commanders. Bring it on!