Agar.io has taken the App Store by storm with its recent release and if you're playing the amazing multiplayer game, you certainly are aware that some people are using skins and manage to personalize their cells with nice graphics.
So… how can you use custom skins in Agar.io? It's actually extremely easy and I am here to tell you what needs to be done, as well as share a complete list of skins for the game!
In order to use any of the skins listed below, all you have to do is to use the codes below as your name. You will get the indicated skin automatically and they are not case sensitive. Yes, you won't be able to play the game uing your own nickname, but at least you have so many to choose from!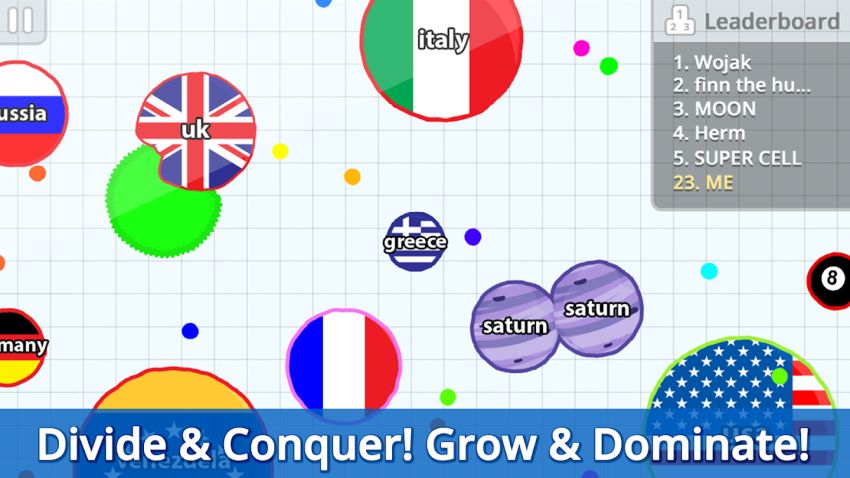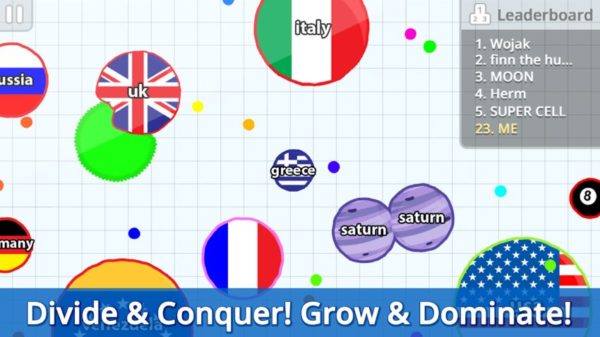 So here is the huge list of working skins in Agar.io in alphabetical order, to make them easier to find:
– 2ch.hk
– 4chan
– 8
– 8ch
– 9gag
– argentina
– australia
– austria
– ayy lmao
– bait
– bangladesh
– belarus
– belgium
– bosnia
– botswana
– brazil
– bulgaria
– byzantium
– cambodia
– canada
– chaplin
– chile
– china
– cia
– confederate
– croatia
To save space and help you scroll less, we're listing them differently from letter "D" onward:
denmark, doge, ea, earth, estonia, european union, facebook, facepunch, feminism, finland, france, french kingdom
german empire, germany, greece, hong kong, hungary, imperial japan, india, indiana, indonesia, iran, iraq
ireland, irs, italy, jamaica, japan, kc, latvia, lithuania, luxembourg, maldivas, mars, matriarchy, mexico, moon
nasa, netherlands, nigeria, north korea, norway.
origin, pakistan, patriarchy, peru, piccolo, pokerface, poland, portugal, prodota, prussia, qing dynasty, quebec
receita federal, reddit, romania, russia, sanik, satanist, scotland, sealand, sir, somalia, south korea, spain, stalin
steam, stussy, sweden, switzerland, taiwan, texas, thailand, tsarist russia, tumblr, turkey, ukraine
united kingdom, usa, ussr, vinesauce, wojak, yaranaika
There are quite a few skins available in Agar.io at the moment and more are being added, so make sure you test them all out!
Also, have in mind that the iOS version of the game is a bit behind with the skins and some of them might not work (at the moment of writing) but they should be added to the game really soon!