I have all the answers for Erudite Trivia right here, from level 1 to level 10 you won't have to hurt your brain.
As you saw, they start off pretty easy, most of these questions are common knowledge. But sometimes our brain doesn't want to work for us, so that's why I'm here to show you how I solved all the levels.
I'm going to start with the beginning, as it's only fair. Follow my answers exactly as I write them so you can pass the first 10 levels with ease.
Erudite Trivia Level 1 Answer
Request: Compare Roman and Arabic numerals
Answer: 1 – I
3 – III
4 – IV
5 – V
7 – VII
10 – X
12 – XII
19 – XIX
50 – L
Erudite Trivia Level 2 Answer
Request: How many angles does a figure have?
Answer:
Circle – 0
Oval – 0
Triangle – 3
Rhombus – 4
Square – 4
Parallelogram – 4
Pentagon – 5
Hexagon – 6
Octagon – 8
Erudite Trivia Level 3 Answer
Request: What does this symbol mean
Answer: Currency sign – ¤
Registered trademark – ®
Smiley – ☺
Euro – €
Infinity – ∞
Sharp – ♯
Section – §
Copyright – ©
Dollar – $
Erudite Trivia Level 4 Answer
Request: What is the name of this song by the band Queen
Answer: Lyrics start with: "Mama, just killed a man…" – Bohemian Rhapsody
"Somebody, somebody…" – Somebody To Love
"I'm falling in love…" – I Want To Break Free
"I'm traveling at the speed of light…" – Don't Stop Me Now
"Another one gone, another one bites the dust…" – Another One Bites The Dust
"My only friend, through teenage nights…" – Radio Ga Ga
"In the pantomime, Hold the line…" – Show Must Go On
"We are the champions of the world…" – We Are The Champions
"Buddy, you're an old man, poor man…" – We Will Rock You
Erudite Trivia Level 5 Answer
Request: What sport is this ball for?
Answer: Basketball – Orange ball with black lines
Baseball – White ball with red sew lines
Ten-pin bowling – Red shiny ball with 3 holes
Water polo – Yellow, blue, and red ball
Rugby – Brown oval-shaped ball, with no white stripes
American footbal – Brown oval-shaped ball with two white stripes on each side
Lacrosse – Blue ball with a white stripe
Tennis – Bright yellow ball
Golf – White ball with dymples
Erudite Trivia Level 6 Answer
Request: Is the animal shown in the picture venomous/poisonous?
Answer: Cobra – Yes
Spider with yellow and black – Yes
Goldfish – No
Blue frog – Yes
Blue butterfly – No
Pufferfish – Yes
Octopus – Yes
Ladybug – No
Blue and white spider – No
Erudite Trivia Level 7 Answer
Request: It is an international organization
Answer: USAID – No
UNESCO – Yes
UN – Yes
WHO – Yes
PHP – No
USB – No
WIPO – Yes
OSCE – Yes
IAEA – Yes
Erudite Trivia Level 8 Answer
Request: From which film is this shot
Answer: The man and the woman dancing face to face – Pulp Fiction
The man standing behind the woman as she has her arms spread – Titanic
Darth Vader – Star Wars
Jim Carrey holding a red dart – Ace Ventura: When Nature Calls
Robert Downey Jr. next to a robot suit – Iron Man 3
Keanu Reeves in black suit – John Wick
Two men laughing – The Intouchables
A man pointing and a policeman behind – The Green Mile
Man with a dog – Hachiko
Erudite Trivia Level 9 Answer
Request: This device/software was developed by Apple
Answer: Dropbox – No
Game Boy – No
Macintosh – Yes
GarageBand – Yes
Trello – No
MacBook Air – Yes
Keynote – Yes
MacOS Sierra – Yes
Numbers – Yes
Erudite Trivia Level 10 Answer
Request: Whose logo is this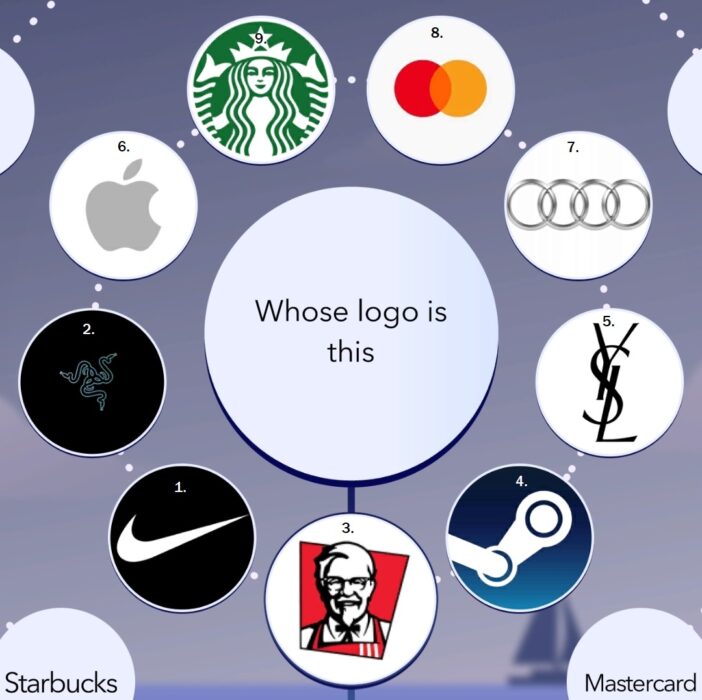 Answer: 1. Nike
2. Razer
3. KFC
4. Steam
5. Yves Saint Laurent
6. Apple
7. Audi
8. Mastercard
9. Starbucks
Conclusion
For more detailed answers for Erudite Trivia level 1 to level 10, you can check out my video below.
I'll update you soon with more levels and answers for them, so in case you stumble along the way you can find your answer here.
If you like this kind of games, I'm sure you'll enjoy my article for Logo Test answers. Training your brain with this kind of games, keeps your mind sharp and you can develop your logical thinking.
Another good game for your brain is Cross Logic, and can check the answers for its levels here. Enjoy!