I grew up watching the Teenage Mutant Ninja Turtles animated series and movies – it was the era where anything that had something to do with karate or kung fu was insanely popular. Years have passed and interest in the karate genre has completely vanquished and I almost completely forgot about Teenage Mutant Ninja Turtles, even though I know that the animated series lives on. But sweet memories managed to put a big smile on my face after I got the chance to play Teenage Mutant Ninja Turtles: Rooftop Run on my iPad as the game just got released over at iTunes.
For those hoping for an intense brawler, I have some bad news: Teenage Mutant Ninja Turtles: Rooftop Run is actually a side scrolling runner game that does have a bit of action blended in the gameplay, but remains a runner. A pretty good and fun one, anyway!
You can control any of the ninja turtles (if you have the money to unlock them, of course) and you run on rooftops battling baddies, trying to stay alive for as long as possible and searching for pizza slices because every ninja loves a pizza, as we learned since 1984.
The gameplay is extremely simple in theory and complex to master: you control your TMNT by tapping or tapping and holding: tap once and Michelangelo will jump; tap twice and it will double jump, tap and hold for wall runs and tap multiple times to destroy your enemies. All while paying close attention to the environment because you don't want to go down from the roof. Pretty intense and exciting especially for the fans of the game.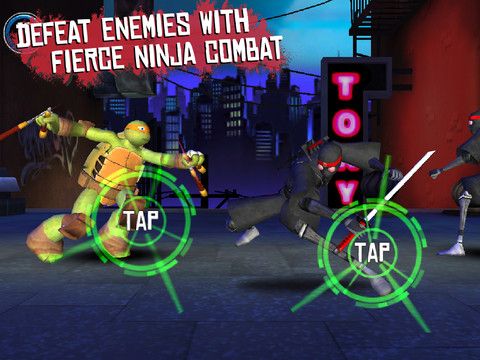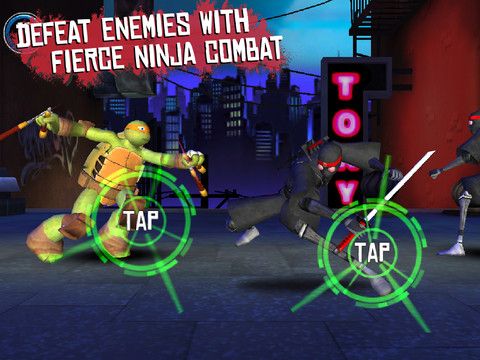 Teenage Mutant Ninja Turtles: Rooftop Run is not really a top game, though: the complexity level is high and you need to practice a lot in order to reach your first kilometer, but the lack of more various things during the run makes the whole thing a bit dull: you collect green energy and battle enemies which don't score too many points in terms of variety. But it's not extremely bad either, especially since there are hidden platforms with pizza slices and quite a lot of enemies to defeat.
One of the coolest things in the game is the Turtle Time mode which gets activated once you fill up your green energy meter (by collecting energy while you run, of course): it starts a slow motion mega fighting sequence that fills your pockets with coins and burns all the calories those pizza slices have been filling your body with lately. A real joy to watch and an extremely nice addition to the game and genre.
Apart from that, Teenage Mutant Ninja Turtles: Rooftop Run has its fair share of things you can purchase for coins collected in game, from boosts to new gear, new weapons and, of course, more chracters (as just one turtle is available for free). The problem with these is that they are extremely expensive and I really feel that the developers should tune down the prices a bit…
All in all, Teenage Mutant Ninja Turtles: Rooftop Run is a fun game for those who are still riding that karate bandwagon or still love the TMNT. For those who just care about the runner game itself, it might seem a bit dull at points, but it still remains an above-average title, especially since it's not a free to play one. But would I recommend it to others? Definitely!
iTunes Link: Teenage Mutant Ninja Turtles: Rooftop Run