Read everything about the correct interactions in Obey Me Nightbringer, for the Surprise Guest Leviathan mini-game / event or whatever you want to call it.
You'll learn today all the correct interactions to perform in order to get max points and increase your relationship status with this character and maybe score a nice gift from them in the process, too.
I am on a quest to create a guide of interactions for all the characters in the game, and I have already covered a few that you can check out below:
And today we're focusing on Obey Me Nightbringer: Surprise Guest Leviathan – let's get straight to it below and check out all the interactions that work well.
Obey Me Nightbringer Lucifer Surprise Guest Interactions Guide
If Lucifer is your Surprise Guest when playing Obey Me! Nightbringer, you have three actions that have to be performed – tapping or swiping over various areas of his body (and trust me, it's all innocent!) in order to score points and max out your relationship.
Some areas give better results and if you don't want to go through the trial and error process yourself and always score max points, I've got you covered.
Leviathan will become the Surprise Guest in the game in two instances – either as a Home Screen interaction, or by being randomly chosen after completing a Ruri★Tunes battle. Let's check both instances below – as well as the interactions you should perform.
Leviathan Surprise Guest interactions after Ruri★Tunes battles
When chosen as the surprise guest, Leviathan will have three possible dialogs with you. Choose the right interactions based on his starting lines listed here:
"Haha, let's experience the taste of victory together!"
Interactions:
Tap head or Chest swipe
Face Swipe
Face Swipe or Head Swipe
"Let's greet each other like normies would!"
Interactions:
High five
Tap arm or Swipe Head
Head Swipe, Chest Swipe
"Man, I'm tired. It's time for a break." (after failure)
Interactions:
Tap Head
Swipe Face
Swipe Face or Swipe Head
And if you've got too much in terms of demonic interactions, you can always go Sci-Fi and read about all the Swarm locations in Star Trek Fleet Command.
Leviathan Surprise Guest interactions – Home Screen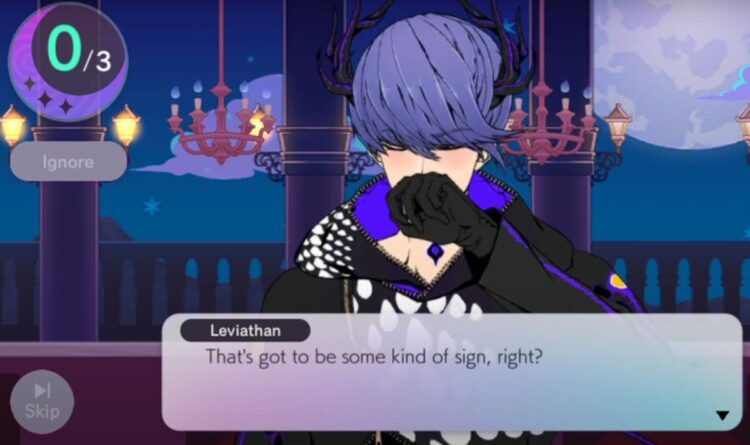 If Leviathan becomes the Surprise Guest in your game as a home screen interaction, here is what to do based on his starting lines:
"Oh, what's up? Are you here to scold me or compliment me?"
Interactions:
Tap face or Tap arm
Swipe face or Tap arm
Swipe head
"Phew. I think I'll watch some anime or play a game now that work is over. Oh, did you want something?"
Interactions:
Tap arm or Swipe head
Tap arm or Swipe face
Swipe arm
You can check out an example video guide showing the Surprise Guest Leviathan interactions in Obey Me! Nightbringer, if you prefer:
Things to know about Surprise Guest Leviathan in Obey Me! Nightbringer
There are a few things that you should know about the Surprise Guest interactions with Leviathan – important, but generic things that apply to all characters.
different actions (tapping or swiping other areas) might also score maximum points, but the ones listed above are tested and work well.
when it comes to tapping or swiping, it doesn't matter on which side of the body you do it, if applicable (e.g. left arm tap or right arm tap – it's the same)
when you can gift items to a character, make sure to choose the sparkling ones, as those are their favorite and they increase points.
If you want to check out the correct interactions for all characters, I have a full Obey Me Nightbringer Surprise Guest Interactions Guide here.
Final words
And now you know everything about the correct interactions to use in Obey Me Nightbringer Surprise Guest Leviathan.
For some reason, he's not a really popular character, but he's one of my favorites.
Anyway, if you manage to find other interactions that work just as well, don't hesitate to comment down below and tell us about them.
And make sure to check back soon for even more guides on the remaining Surprise Guests in the game.