Today, we're learning about the Surprise Guest event in Obey Me! Nightbringer, and we're focusing on the Mammon surprise guest to get everything out of this particular interaction / minigame.
Knowing exactly what to do when this event begins helps you score the maximum amount of points and get the maximum amount of affection from your demon friend.
We're going to cover them all in future articles, but for starters, let's check out below the Obey Me! Nightbringer Surprise Guest interactions guide for Mammon.
Obey Me Nightbringer Surprise Guest Mammon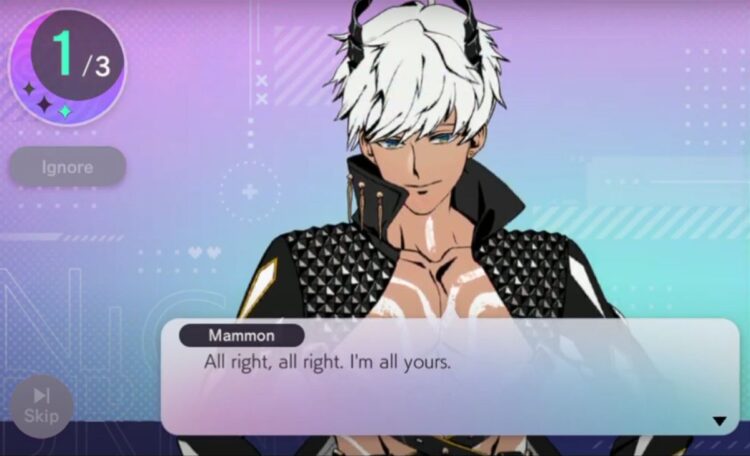 This is basically a short minigame where you share an intimate moment with Mammon.
Being very innocent in nature (so parents, don't freak out!), you will have to tap, swipe or perform certain actions in order to score points.
Related reading: If you want to take a break from this life sim, make sure you build the best F2P deck in Harry Potter Magic Awakened.
Taking out the trial and error and guess work out of the Surprise Guest event is really useful, so here is what you need to do as far as Mammon is concerned.
Mammon Surprise Guest interactions after Ruri★Tunes
If Mammon is chosen as your surprise guest after you complete a Ruri★Tunes stage, here are the things you should do to max out points, depending on his comments:
"We'll be invincible if we team up!"
Actions:
1. Arm Tap
2. Arm Tap, Shake Device
3. Face Swipe, Chest Tap
"Hey, hey, hey! The Great Mammon makes his mark!"
Actions:
1. High Five
2. Head Swipe
3. Face Swipe, Head Swipe
"I wonder if there's any money around here." (stage lost)
Actions:
1. Face tap
2. Face swipe
3. Head swipe, Arm Swipe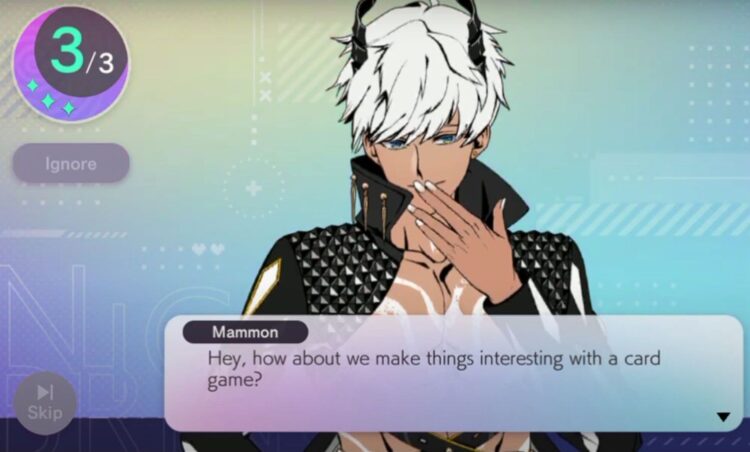 If Mammon is chosen as your surprise guest from the home page, here are the interactions you should go for, depending on his message:
"Hey, how about we make things interesting with a card game?"
Actions:
1. Chest swipe
2. Head Swipe
3. Head swipe, Face Swipe
"yawn I'm sleepy."
Actions:
1. Face tap
2. Face Swipe
3. Head Swipe
If you want to check out the correct interactions for all characters, I have a full Obey Me Nightbringer Surprise Guest Interactions Guide here.
Important things to know about Surprise Guest Mammon in Obey Me! Nightbringer
Here are a few things to keep in mind about these surprise guest minigame interactions.
They are actually the same for all characters in the game, not just Mammon:
more actions might be accepted, but the ones listed above surely give max rewards (I personally tested them)
when it comes to tapping or swiping, it doesn't matter on which side you do it (e.g. left arm or right arm – it's the same)
when you can gift items to a character, make sure to choose the sparkling ones, as those are their favorite
And if you like to know answers before hand, make sure to also check out our previous article where we shared all the AFK Arena Poetic Pop Quiz Answers.
Wrapping up
Now you know all the interactions to perform whenever Mammon is chosen as your Surprise Guest in Obey Me! Nightbringer.
If you have additional interactions that yield amazing results, don't hesitate to share them with us all in the comments section below – but please try to mention if it's a home screen interaction or one triggered by completing after a battle / level.
And also make sure to check back soon, as we'll publish more in-depth guides for all the other in-game characters.