The farming genre has been done and re-done in the past and it ended up being an overcrowded genre with very few notable games that are worth playing. Hay Day is one of these games – one that in my case was good enough to make me love the genre again after an overdose of FarmVille and after for a few months I was unable to even think about playing a farming sim again.
The nice thing about Hay Day is that it's really complex and introduced real resource management into play and introduces real challenges that probably farmers face with any day: for example, I only have three wheat left – what should I make? Some bread or should I plant them to grow more?
Because, yes, in Hay Day you don't directly purchase "seeds" for your crops (although this is a possibility), but you plant what you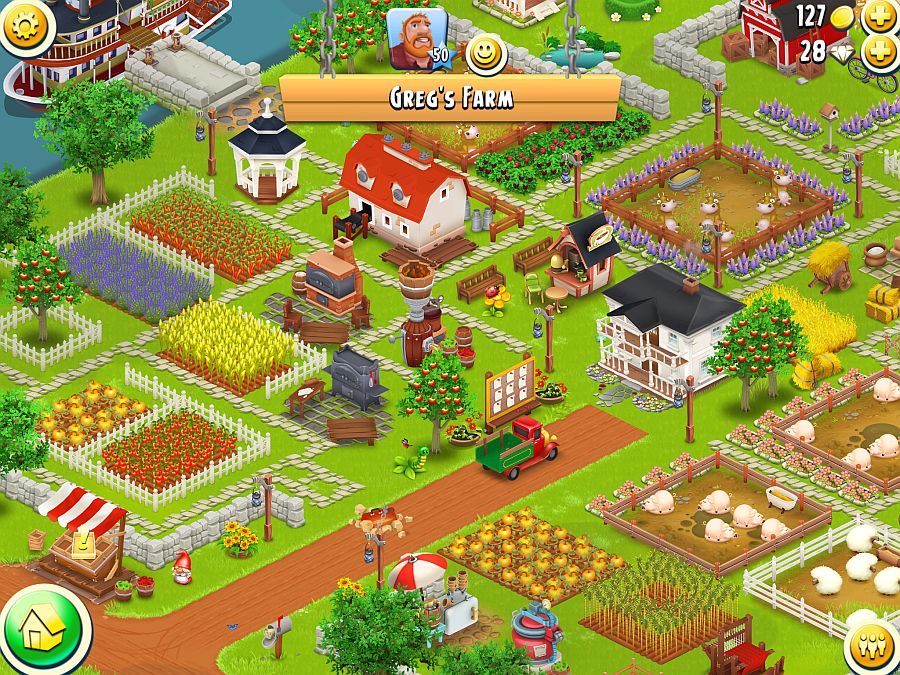 harvest. Use one wheat, and when you harvest it, you have two. And therefore, this doesn't cost you a thing. Because crops and basically everything else in the game is extremely expensive. Forget the FarmVille times where you can load out thousands of pixels with your favorite crop – here, they are expensive like gold and gold coins are not things you will have too much of, at least not for a long while!
And this is not a bad thing – Hay Day doesn't try to force you into purchasing coins or spending real money and that's the great thing about it! It's natural and everything makes sense, completing missions and being able to expand turning out, eventually, to be a really rewarding experience.
There are some new gameplay mechanics in Hay Day that really make it shine: small, but interesting things. For example, in order to harvest your crops, you don't just tap them, you tap and swipe, and similar moves are used for feeding animals too. This adds a bit of variety to the game.
Commerce and production are other valuable things that expand the gameplay: you can sell your crops and products to either visitors that randomly appear at your farm's door or in your own market stand (and you can also purchase whatever others are selling – usually not much and pretty expensive!) Production helps you use your crops and goodies harvested from the animals to produce other goodies that can be either sold or used to complete various orders that you have on your board.
The visuals are also absolutely charming. The animals look funny and adorable, the colors are amazing and the design is so great, that you will fall in love with Hay Day at first sight. The sound is not annoying either, without being brilliant. However, in such games, it's difficult to find something that doesn't end up being a bit repetitive.
All in all, Hay Day is an amazing farming game for iPhone and iPad and I am sure that, as it did to me, it is able to make you love farming sims once again, even if you got really bored with them lately. It has personality, it has a great and simple gameplay which somehow still manages to be complex and overall it offers a great deal of fun to new and old players, so do yourself and play this game. You'll love it!
Click here to check out Hay Day on iTunes.