I must admit that I am a sucker for everything puzzle and I tend to look for new concepts and new ideas in the genre of puzzle games and I am pleased every time I see such a brand new game. Blueprint 3D HD for iPhone and iPad is such a game and I have been playing it regularly since finding it and I am sure you will do the same after reading this review.
A really amazing thing about Blueprint 3D HD, and something that you notice the first second you play the game is that great feeling that you are really playing a next gen title here, taking complete advantage of the touch screen features of the device. Add to that a truly sci-fi look of the blueprints caused by the fact that we're talking about 3D blueprints and you have your WOW factor as soon as you start playing.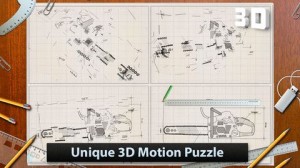 The idea behind the game is pretty simple in concept: you get a blueprint of a famous object (like the Eiffel Tower, for example) and your goal is to turn and twist the sketches until you get the complete blueprint. This might sound easy at first, but you will soon realize that it's not: when a level starts, you actually have some lines that make no sense and you have to use any clues that you get (usually bits of writing) to complete the blueprint. And you do this over and over again with tens and tens of different blueprints, some more obvious than others, trying to complete the blueprint fast enough to get a three star reward.
The game comes with all sorts of goodies, things you would expect from a next gen game. Therefore, Blueprints 3D HD has leaderboards, challenges for you to complete, rankings, trophies and much more, making a pretty static game an even more exciting one.
And as if that is not enough, Blueprint 3D has an amazing feature that allows you to take photos of about anything and the game automatically creates it into a blueprint that can be solved, saved and shared with other people playing the game. You can also download tons of new blueprints created in similar players from the Downloads section, making this game a neverending challenge.
So all in all, if you are looking for a hot puzzle game on iPhone or iPad, Blueprint 3D HD is the game you should download right now and I guarantee that you will play it with all pleasure. It is amazing, it is unique, it is groundbreaking and flawless!
So head over to the App Store and download Blueprint 3D HD for free!