If you find yourself playing Castle Story and you don't know where else to go, don't worry, we are here to give you some help with what the game is all about.
We put together this Castle Story Guide to make it easier for you to play the game. What you need to know about Castle Story is that you are being supervised at the beginning by the Baron and he will tell you what you need to know. Don't miss any talk you have with him because it's not only helpful is funny too.
You will feel like you're in a story, making your own dream kingdom they way you want to rule it.
Kingdom Goals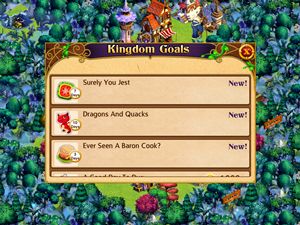 The Blue book in the left corner of the screen contains all the goals you have for the level you're in.
I advice you to try making all the goals you can. Step by step because there is no hurry, and you will be rewarded. I also did installed the games they suggested and they gave me some pretty rewards paying me in gems. Gems are very expensive and hard to find so that was helpful, but the games they suggested are not that addictive like Castle Story is. But I nod mind as they make you go further and further in levels and they give you more and more gems. The time passes faster when you have something to do till you wait for the energy to refill in Castle Story.
If you want to view a goal and then come back to the list on the left corner of the goal icon is an arrow that will lead you back.
The goals are pretty straight forward and they give you all the clues you need to accomplish them. Read everything there is in the Goal box and you they can even lead you to what you have to do or buy by the push of a button.
Expansion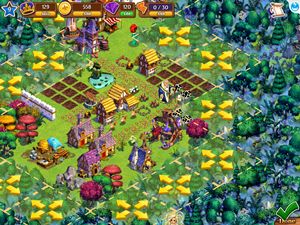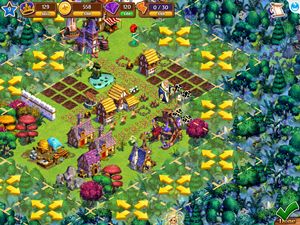 You will need to expand in order to fit everything the games requires you to build. Every patch has its price, make sure you don't go for the expensive one or for the harder one to get. The royal points a patch requires refers to the buildings in the Market on the Royal section. Each has written under the amount of royal points they will give you after you build them.
You can make Wisp Lanterns in the Workshop and the cheapest expansion requires you at least 2 Wisps.
Gathering Materials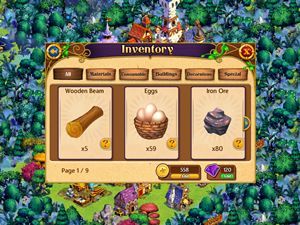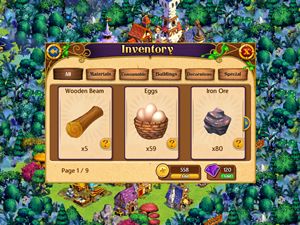 The materials you need to build yourself other stuff, in the Workshop or other buildings you will soon encounter, are around your Kingdom. Cut trees for wood, mine rocks for stones, water flowers for petals, fish in pond for, well fish, and so on. Doing so you can also get more rare items that can be also used in different types of crafting.
Cows give milk but they also can give you cow skin or prime cuts of meat from time to time and chickens can give you the usual eggs or Roast Chickens. Don't stress about not knowing where to find something every material has a question mark on it with information about where to get it.
Flowers are found around the town but they can be also bought from the market in the Nature Section. As you can also find trees to chop if you don't have any left, or rocks to mine, or anything else for that matter.
The monsters and animals that visit your kingdom can also provide materials that you can't find in other places, not even in the market. So be a brave ruler and get rid of the scary creatures.
My advice is to use your energy first in what you need to complete the goals and then, if any is left use it to do other stuff around your kingdom. This will get you materials that you will need later on and it will be easier for you to gather. So chop the trees and water your plants, you need your kingdom to be nice and shiny.
If you want to know how much of the same item you already have you can go to the Market, in the lower right corner, and view your Inventory.
Visiting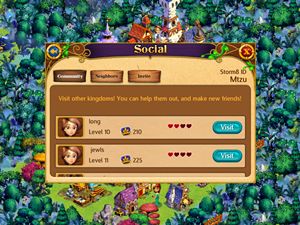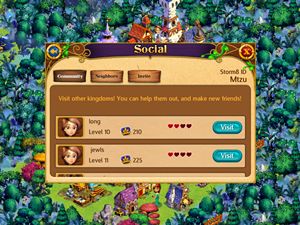 It's better for you to have Neighbors and visit those than the Community lot, they give you energy and coins. To invite people to play you need to know their Storm8 ID, which is NOT the same with the Kingdom name, because that would be too easy. You can find the social network if you go in the Menu Icon in the lower left corner of the screen.
Trick: Because I was at the beginning and didn't know anyone that played I went for a walk to the other kingdoms in the Community section, the bigger the Kingdom the better. And let me tell you why.
You go to a big Kingdom, larger and prettier than any you've seen and click the Wall icon in the lower right corner of the screen. You can leave your Storm8 ID, after you make one of course, and steal some that are already on that Kingdoms wall. People don't mind if you add them to your list because everybody needs friends in this game. Easy right?
Invite as many people as you want, you will need a lot of them later in the game and they are very useful. You can give each other gifts too, so why not take advantage of this.
Tips and Tricks
Check in the game each day. As in any other game there a bonus waits for you every day and is larger and larger till day five, when is VERY large. You will need every bonus you can get so don't miss a day or you'll start from the bottom again.
As I said before, you need to use your energy wise. Use it to complete goals that can give you more XP points and with the remaining ones you can use them for the little details around the town, as chopping wood or doing stuff that isn't in the goal menu. Gaining XPs can get you closer to leveling up and refill all your energy meter for free.
Stick to the Goals Menu as it will help you advance faster and give you more money in the process, at least at the beginning.
And visit your neighbors and leave you Storm8 ID on as many and bigger Community Walls as you can. Other people will see it too and add you so the process of adding neighbors will go faster.