This game starts as a bad case of "how should we call it": on iTunes, it appears as "Soccer Tactics" but after installing the game, you find out that it's actually called "Football Tactics". Fortunately, this little mess up is probably the only mess up of this amazing game and one we can easily ignore.
Soccer Tactics is a game like no other, I must admit. Maybe I haven't played too many football tactic sims in my days (despite being a huge Football Manager fan), but either way Soccer Tactics aka Football Tactics for iPhone and iPad is amazing: it's turn based football!
I know that his might sound strange at first: football (we will call the sport "football" from now on, just to be clear) is a game that doesn't seem to work out with the turn based system and this is exactly why Football Tactics is such an amazing game: because it makes it work flawlessly and with style.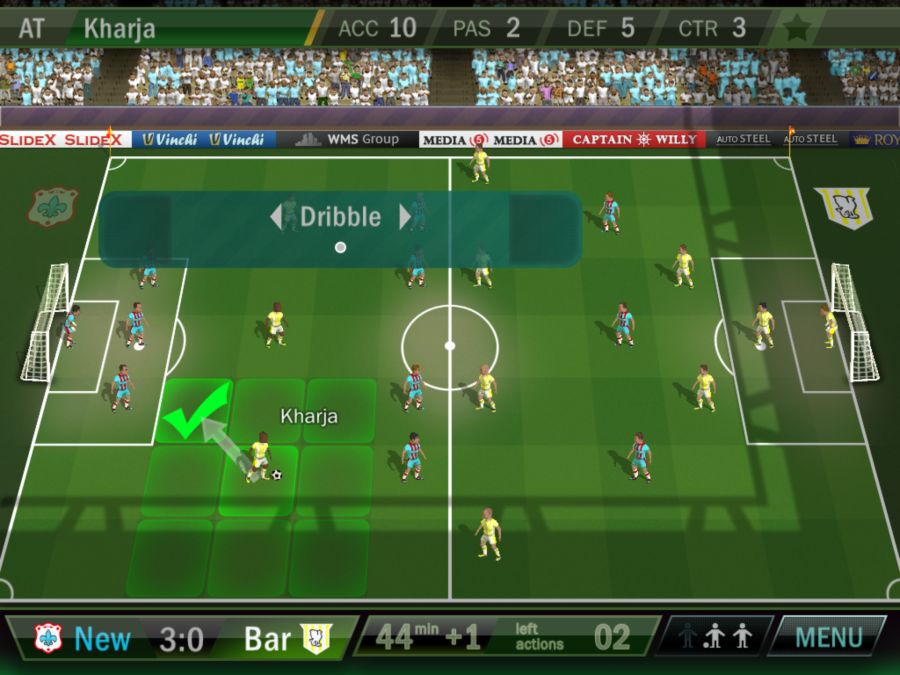 The game starts with you by either creating a club or selecting one in the existing leagues and gets you going: most of the time will be spent on the pitch with you trying to score more goals than your opponent. The gameplay is extremely innovative and smart: each team has three moves per turn (but you can skip them all if you wish to) and you have to use them to prepare the defense and offense. You control the flow of the game by tapping the player you want to perform an action and then select the action you want him to perform: dribble to a specific square if he has the ball, pass it or shoot it, run to a specific square (if he has no ball) or tackle / press the opponent if he has the ball.
Each player has 4 skills – passing, defence, accuracy (shooting) and ball control. When one player performs an action, its success rate is based on the player's skill. However, the other players also come into… play here: let's say that our striker is in a good position and we want him to shoot the ball. When we do it, he will first have to shoot the ball near the defender (if any is around) and it's time for the first "skills battle", automatically solved by the AI. If the accuracy of our striker is better than the defence of the defender, we're shooting on goal. Next, to decide if we score or not, we're pitted against the defence skill of the keeper. And it's not just a numbers game, a bit of luck is involved as these "skill battles" work as dice rolls: whoever rolls the biggest number wins and the skill each player has in the required category is the maximum he can roll. It might sound complicated, but it actually is not and you'll understand how everything works in the first few seconds.
However, Football Tactics does lack in one department: the tutorial. Instead of having one that tells you everything you can do, the game's tutorial is divided into a set of messages that you receive after each match you play. It took me two or three matches to actually see that there's a lot more depth in Soccer Tactics than I initially thought it was: you can actually customize your starting formation, you can substitute players, select their training routines and even sign new players. It's quite complex!
Also, Football Tactics is unfortunately a pretty simple game: despite starting in the amateur league, you start with a team of super-heroes compared to the poor players you're pitted against and winning matches will be no problem at all. This does take up some of the fun of the game eventually, but fortunately I like winning, so I didn't really get bored. Plus, I hope that once I make the big step to a new division, things will get a bit more interesting and challenging.
The presentation is also great in Soccer Tactics: the game has some really nice graphics and animations, the players move smoothly around the pitch and everything seems to be exactly where it is supposed to be. The gameplay itself is simple and faultless, you control everything by tapping the screen and the control interface is made in such a way that you will never select the wrong action on perform the wrong move.
The only problem I found with Football Tactics is that it does kind of force you a little bit to spend real money to help you improve your squad and sign new players: I have played quite a bunch of games, all wins and just one draw, but still I lack the money to sign a player that has a similar quality to those already in the team. The good thing is that I already have some great players that keep improving game after game, so I don't really have to buy new ones. But probably as we climb up the divisions, that will be needed and I might not have the money.
Overall, Soccer Tactics is an amazing game. It looks good, it plays good and it turns you into an addict without you knowing it. I am actually writing this review with one eye on my iPad, controlling my team and winning match after match. But who's the true winner here? Football Tactics, of course, and you should give it a try right away!
iTunes link: Soccer Tactics