When you first start playing Rise of Kingdoms, you are assigned to a random server.
Usually, a newer server is used for new players, since everything would be more balanced and you won't find your level 1 city surrounded by level 20 and above ones.
However, the game allows you to change servers or change the kingdom you're in – that's the same thing and it is done easily.
But since the tutorial doesn't explicitly tell you that you can change servers and the option itself is not very easy to find, I am here to help and in today's article I will teach you how to change servers in Rise of Kingdoms and how to move to a different Kingdom.
For example, if you are in RoK in the Continent of Pontus, the Kingdom of Tuttle and you want to move to to the Kingdom of Egria – Daciae, the Kingdom of Mercia, this guide will tell you how to do it! Of course, this would work for any two kingdoms in the game.
First of all, before we even get to this, there's one thing you should know: you can only change servers and move to a new kingdom BEFORE you upgrade your City Hall to level 8.
So if your city hall is higher than level 8, you will not be able to change kingdoms and servers and you are stuck to the server/kingdom you're at. There's nothing you can do to move at this point.
You will also need to meet other requirements, out of which the most important is to own at least one Beginner's Teleport (so if you used it, you won't be able to change to a different continent or kingdom).
You also need to have all your troops at home, no reinforcements in the city, not be part of an alliance and you don't have more than one other character in the world you are teleporting to.
If you meet all these requirements, hanging servers in Rise of Kingdoms (aka moving to a different Continent / Kingdom) should be really easy.
1. First, pinch the screen to zoom out as much as possible, in order to see as much as possible of your current kingdom:
In the image above, you see exactly how this should look like. We have more screenshots for you to make things easier.
2. Tap the earth globe icon in the bottom right corner of the screen. This will bring a list of Kingdoms, showing you your current kingdom:
3. Simply browse the list and tap the Continent you want to move to, select a Kingdom from the list and then finally select a Province you want to move to: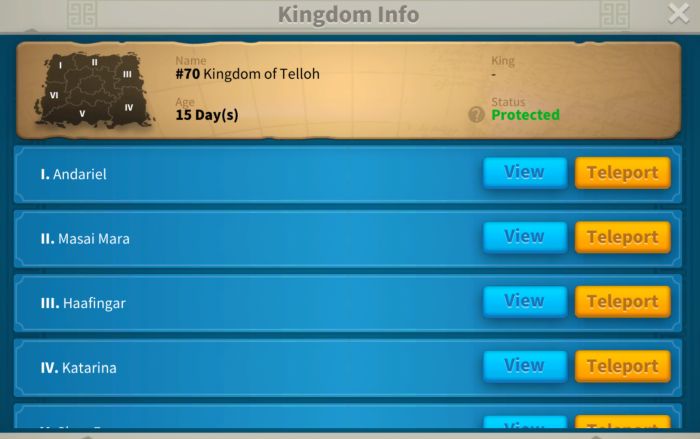 4. Tap the yellow Teleport button. If you meet all the requirements listed at the beginning of this article (the game will also list them for you), the game will reset and you will find yourself in the new kingdom, in the selected region.
This makes it a lot easier for you to play together with your friends or move away from an old server with high level players and go somewhere that's more beginner-friendly, as long as you decide to do this before your City Hall reaches level 8.
I hope you find this guide useful. If you have any additional questions about moving kingdoms and switching servers in Rise of Kingdoms, let me know by commenting below.