Check out this complete guide to My Hamster Story for a full set of tips and tricks on how to play better and unlock everything faster.
My Hamster Story is an extremely charming game that combines incremental, management, idle game mechanics with match three / merge elements to deliver a truly unique experience.
At the same time, it's really challenging and with so many things to consider, unlock and keep in mind, it might seem – especially early on – difficult to focus and prioritize. But worry not, today I am here to help you with this complete guide to My Hamster Story!
So, without further ado, let's check out all the tips and tricks for the game below!
1. The Merging Minigame should be your main focus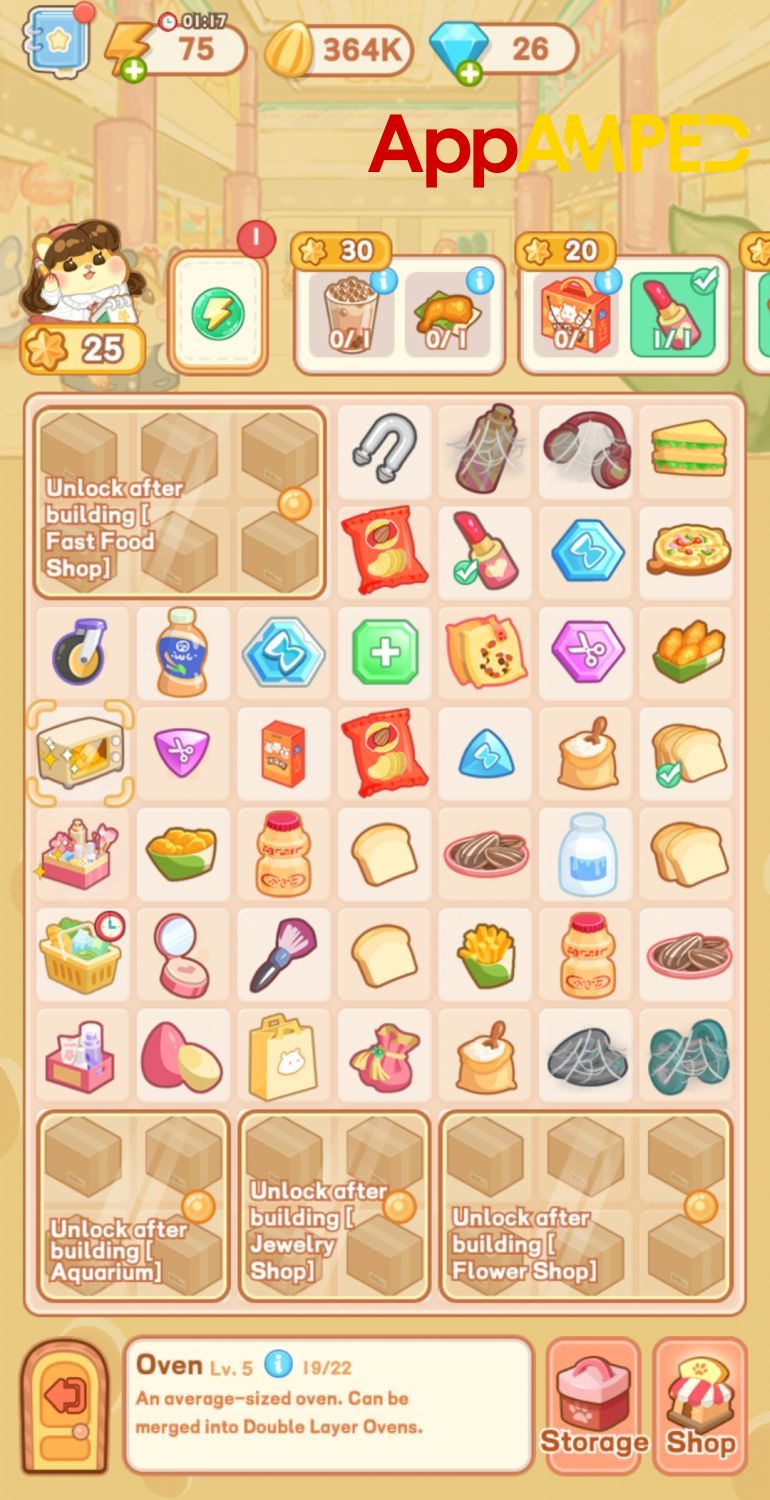 This is, in my opinion, the most important part of the game because this is where you get the Red Flowers needed to unlock new products in your shops and basically progress through the game.
Therefore, make sure to always spend time in the minigame and aim to always deplete your energy per each play session in order to maximize your earnings.
Even if your board looks like a mess (as you see in my screenshot above), it's better than wasting energy. However, you should have a strategy in place, so let's get even more in depth with the merging minigame!
2. You can sell individual items for development points
Your main way to get development points in My Hamster Story (the "stars" you need to unlock additional stores) is by completing the orders above the play area.
However, some of the items can also be sold for development points, if they are advanced enough. To see if they qualify or not, simply tap each item on the board – you will see that some can be sold for money, others for development points.

While you will get a lot more points from combining the orders, if you only have a few left that you need – and the item you can sell is not required in any of the orders, you can go ahead and sell it.
I did this early on when I got the Cosmetic Case which spawned all sorts of cosmetic items. I sold plenty early on before they even were requested in orders.
Not only that this allows you to keep your board somewhat organized and clean, but it's also helpful early on in unlocking new stores.
3. NEVER sell the rare items!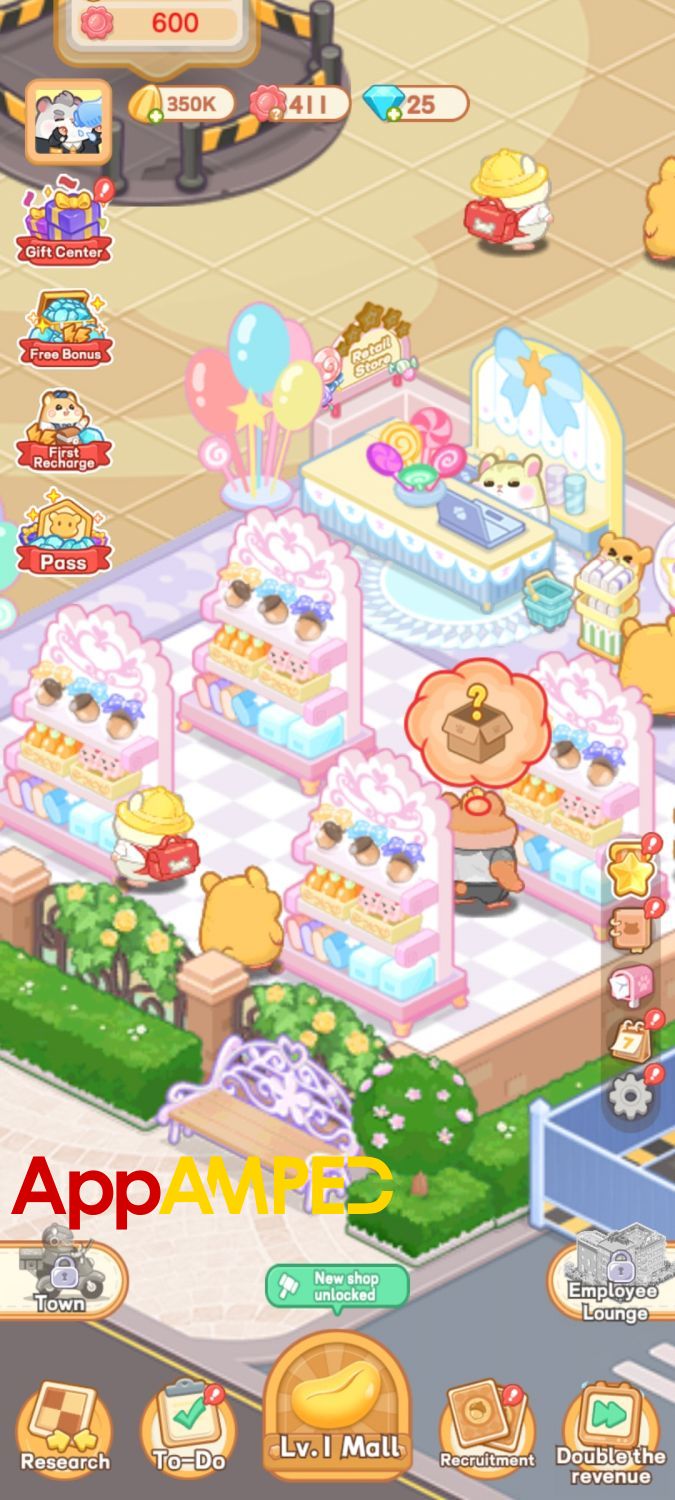 Even though some very rare items reward you up to 6 Development points, never sell those as they are more valuable.
Sure, they take up space and until you merge them into the Spawner, some time will pass, but once you get there, you can actually merge your Spawner with the existing one, improving its stats.
This is more useful than the quick gains, so always keep these rare items and merge them until you create the spawner.
4. Take advantage of the storage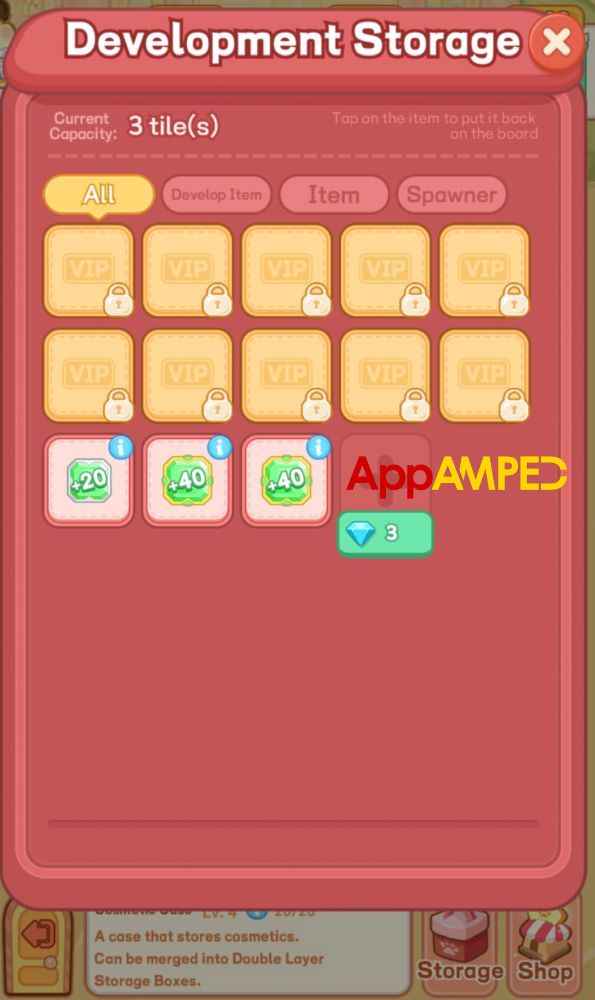 At the bottom right corner of the merging area minigame, you have the Storage button which opens up a new window where you can see your stored items from the board.
Take advantage of this, storing rare items that you don't normally use (like all sorts of power-ups).
While as a free to play player you only have 3 slots unlocked by default, I would recommend getting a fourth by spending 3 diamonds (each additional slot costs the same) in order to maximize your storage and have more options.
And while you wait for the merging energy to fill up, why not try a similarly cute and amazing time management game? Check out the Zoo Park Story tips I shared to see what I'm talking about.
5. How to Get More Red Flowers in My Hamster Story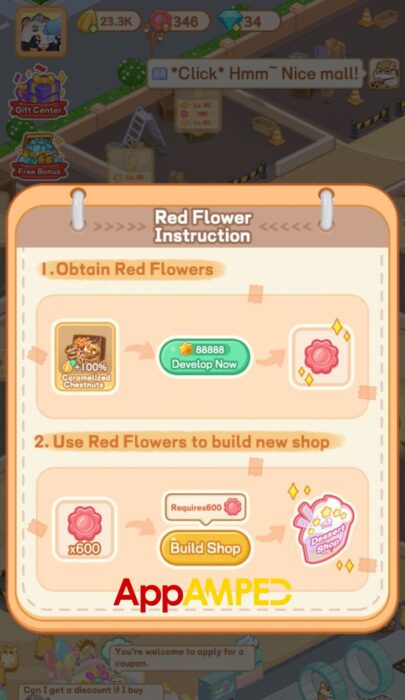 These red flowers are the most important element in the game, even more important than Diamonds. You need plenty of them to unlock new products in your stores and there's just one way to get more.
You get more Red Flowers in My Hamster Story by unlocking new products in the stores. You get the points required to do so by playing the minigame above – the reason why I focused on it so much.
If there are no quests requiring you to unlock a specific product in your store, do it like this:
First, focus on the cheapest products you can unlock. You will always receive an amount of red flowers equal to the amount of points you spend.
Second, if you have a customer that wants a specific items developed, get that one first as you will receive some extra rewards for that AND you reset the counter and soon a new request will arrive.
If you're into SpongeBob games, you must play SpongeBob Adventures In A Jam. If so, make sure to read our previous guides on how to get more energy in the game or how to feed the Jelly Fish.
6. Try to complete the commissions
Commissions are basically extra missions that keep you playing the game: you will receive rewards if you unlock a new store in a given set of time.
Usually, the amount of time you have is enough to meet all the requirements, so try to get these for top rewards.
Make sure to focus on the commission on hand though as sometimes you will be able to open a different shop before meeting the requirements for the commissioned one. If you do this, chances are that you won't be able to complete the mission, so focus on it instead.
7. Don't forget to grab all the rewards!
Like all games of this kind, My Hamster Story has plenty of rewards for you to collect on a daily basis (and even multiple times per day).
These usually are rewarded for simply playing the game, so make sure to always check out all the quests and claimable rewards and claim them ASAP.
In other words, whenever you see an exclamation mark on your screen – tap it, as it's usually signaling a reward waiting to be collected or something important happening in-game.
8. How to always get the offline bonus
It appears that the game is a bit buggy when it comes to calculating and rewarding you the offline bonus.
And this can really slow down your progress, so make sure you take the steps I am recommending below to ensure you get the bonus!
First, connect an account to the game to no longer be a guest. Click the Settings button (cogwheel icon in the lower right side of the screen) and either connect with Facebook, or Gmail.
Second, before exiting the game, click the same icon and tap the "Cloud Save" button. This is extremely important!
Third, after exiting the game, force quit it (swipe up or left to remove it from the active apps).
If you follow these steps, next time you login, you will be guaranteed to receive the offline earnings.
9. Turn off your internet connection
After force quitting as mentioned above, turn off your internet connection. Then get back into the game.
Many actions in the game are now easier and take no time or require no ads to be done. Countdown items in particular can be unlocked if you play without internet and there might be additional bonuses for you.
Make sure to re-enable your internet connection BEFORE quitting the game again, and cloud saving before you quit in order to keep your progress.
Final words
My Hamster Story is an amazing, addictive and fun to play game. It now is a lot easier to play too with the help of my tips and tricks above.
If you have even more tips to share with fellow players – or if you have any questions, don't hesitate to comment below and I will reply ASAP.
And if you want to continue with fun to play idle games, why not try something in a different genre – AFK Football is a great choice and my article tells you all the tips and tricks you need to know.