Today, I'm here to share with you a guide on how to get the Table Saw in Merge Mansion. This is a difficult item to unlock, as it requires you to complete various tasks and reach level 30 at least.
There are tons of items that are more or less difficult to get in the game and I will try to cover them all as soon as possible. Until then, make sure to also learn how to get the Tin Can and Garden Statue in the game.
Now, back to today's topic! Let's learn how to get the Table Saw in Merge Mansion.

In order to get the Table Saw in Merge Mansion, you will need to complete the "Dig out dirty paving" mission (which is mission 19-15) in the Rufus' Park series of quests.
Without going into much detail to spoil things for you, I can say that you will use the Table Saw to complete another task that will require it. But you'll hold onto it for a while…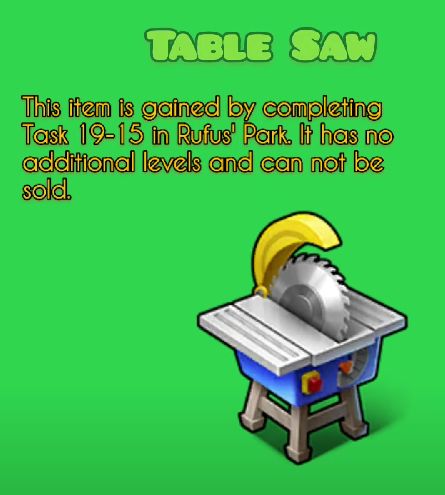 The Table Saw itself can't be leveled up, nor can it be sold for coins. But once you reach the task that requires it, it's safe to give it away.
How to unlock the Rufus' Park missions?
Rufus' Park is a new set of missions that you can unlock once you reach level 30 in-game. This is the 19th in-game area that you can open.
There are tons of challenges for you to complete here, as Rufus' Park missions begin at 19-1 and end at 19-63. That's great though, because we all love playing the game so much, right?
Conclusion
Getting the Table Saw in the game requires you to simply progress through the Merge Mansion missions and complete the Rufus' Park quests.
There's no rush to get there though, so take your time and you will eventually have it unlocked.
If you have additional questions or comments about the Table Saw in Merge Mansion, let us all know by commenting below!