Covet Fashion is an extremely popular fashion game available on both Android and iOS devices. In today's article, we're sharing some Covet Fashion cheats and tips that will guide you through the game, helping you get better at it and also telling you how to get some free diamonds in the game.
I am sure that you already love the game, so let's stop talking about it and let's focus on what matters today: some Covet Fashion tips and tricks to help you play better!
Please have in mind that this guide is mostly aimed at beginner players, but if you are an experienced player, you shouldn't just ignore it – check it out, maybe there's something new for you to find out as well!
1. Log in daily
Each day you receive 100 diamonds for free, as well as 20 tickets, so it's worth logging in each day even if you don't have to play.
Also, from the same area, you will collect any rewards you have won from ongoing challenges, and it's good to get those ASAP as well in order to have more money for clothes and items.
2. Micromanage your money carefully
Especially when starting the game, you will have some real trouble with money: you'll never seem to have enough! This is why it's extremely important to spend them wisely as soon as you start playing.
One of the best ways to do this is to only spend money on clothes that are required for the particular challenge you're about to enter or have entered.
Otherwise, you're just throwing money away and you're one step closer to complete humiliation and bankruptcy. Because, yes, this game is really tough in this aspect!
The good thing about the items you buy is that they can be reused in other challenges, so as you progress, things will become a bit easier.
Another thing you should keep in mind is the reward you will get from a challenge. Make sure that the price of the items you purchase for a challenge is actually equal to or ideally under the amount you will win.
3. The small things matter
Paying extremely close attention to details is vital in Covet Fashion. Unlocking new hair styles with added accessories (and using them correctly), getting the right make-up done and even the best skin tone for a challenge – all these add up and seem insignificant at first but are what separates winners from losers.
So take a time for each challenge to really dress up for the occasion. Accessories are extremely important and you can easily notice the trends by checking out results and what other players are doing, then trying to replicate their success.
4. Increasing your closet's value
The Closet Value goes hand in hand with the items you own and the accessories, hair styles and makeup you can unlock.
You can only increase your Closet Value by purchasing new items, but even so don't hurry to spend more than you can afford and take it slow.
You can never know what challenges are coming and you might end up not being able to afford to dress up for the occasion!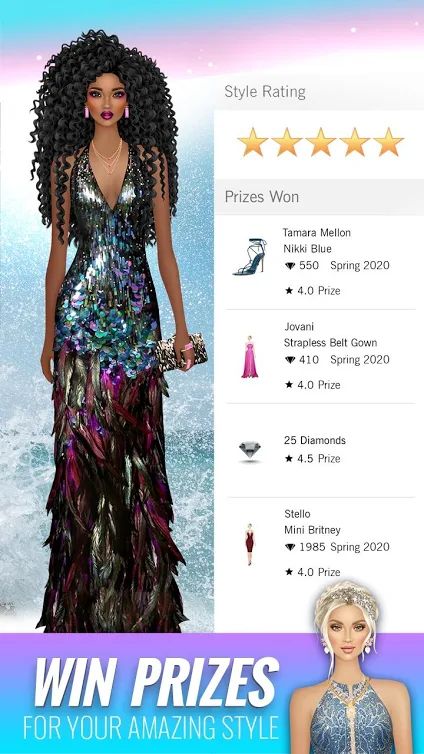 5. Be honest when voting
Make sure that you always vote for the better model in each of the challenges because this is the only way to keep the game fair.
If you don't vote fairly, selecting the model you really think ticked all the boxes, more and more players will start voting unfairly as well, destroying the game.
I know it's difficult to get that look that wins the top votes each time and you will always feel like you should've been the winner, but this is not an excuse to vote unfairly – it will earn you nothing!
6. Friends are extremely important
Connecting the game to your Facebook account and adding friends is essential for the long run success of your model.
This way, you will get the option to borrow items from your friends and in the long run, you only have to gain from this.
So make sure that you add at least a few very active friends to help you get better!
Even more important are the Fashion Houses which allow you to borrow items, but also enable you to take part in the regular Runway Rallies, where your entire Fashion House competes for glory and great rewards.
For this reason, make sure that you join a house that is extremely active and has very good members that can help you win the top prizes.
This ends our Covet Fashion tips and tricks article. If you have any additions to make, all players are interested to read them in the comment section below.