For new Rise of Kingdoms players, there is an active promotion going on: the First Recharge Bonus which comes with some really interesting rewards.
But you might be wondering if it's worth getting that bonus and if you indeed receive an advantage from it. And what's what we're going to talk about today!
So, before trying to answer the question if it's worth getting the First Recharge Bonus in Rise of Kingdoms, let's check out the details in the screenshot below:
What does this mean? It means that whenever you recharge your account (by purchasing diamonds) you will receive the Legendary commander Minamoto No Yoshitsune, as well as 50,000 worth of Commander XP, 50 extra Gems, 1 Silver Key and 1 Golden Key.
Please note: The rewards might change with future updates, so make sure you double check to see exactly what you're getting.
If you hit the "Recharge" button, you will be taken to the "Special deals" page aka the Super-Value Bundle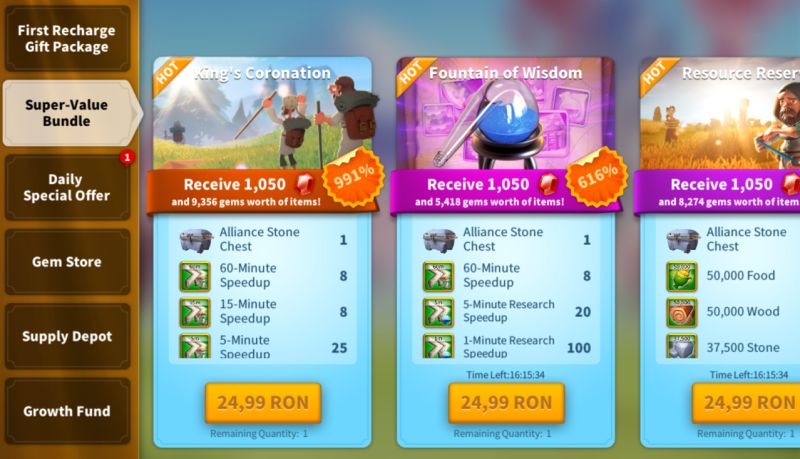 You can choose your special deal there and they are indeed extremely useful, especially for somebody who's just starting up.
They are also a bit more expensive than other offers in the game, although you do get a lot of value for your money.
But you don't really have to buy the more expensive special deals in order to get the First Recharge Bonus!
You can buy any diamond package and you have offers for as low as 99 cents. Out of these, I consider the "Daily Special Offer" to be the most advantageous:
For 99 cents, you get 200 Gems but also bonus gifts worth over 2,000 Gems (1 Alliance Wooden Chest to share with fellow alliance members), another treasure box – Treasure of the Martel's Heart, some boosters and XP books and VIP points.
The best part? That purchase also unlocks the First Recharge Bonus, so you're getting it for a real special price. And getting a top commander plus so many other goodies for such a low price… it's really worth it!
So… is it worth getting that First Recharge Bonus in RoK?
I know that many people are against spending money in mobile games, but if you really like Rise of Kingdoms, this is one bonus that really offers a ton for the small amount that you can pay to unlock it.
Legendary commanders are very difficult to unlock in the game and getting one like Minamoto No Yoshitsune early on is really a solid advantage.
He's a good commander and I wrote a complete review for him here – make sure to check it out to get all the details.
You're also getting a brand new Gold Key that is extremely valuable and 50 extra Gems which will also come in handy. Overall, this is a really good deal and my opinion is that you should take advantage of it.
Have in mind though that Minamoto is the "pay to win" commander. This means that you will only be able to get statues for him through additional purchases (usually from the VIP shop).
So if you know you are going to spend more money in this game, you can really take advantage of this commander and level him up a lot, making him one of your best.
If not, though, Minamoto becomes less useful in the long run because his Skills will be stuck at level 1. But he is still useful early on and you can change your strategy and invest in building him up whenever you feel like.
Does this special deal ever expire?
To be honest, I have no idea. It will probably stay there forever – until you make the first purchase, and disappear afterwards, only to be replaced with a new deal called "Road to Greatness" which offers you even more goodies if you recharge 800-worth of Gems or more.
So take your time if you're just starting to play the game and give it a few days to make sure that you're going to play it often.
And if you do, then grab that daily special offer for just 1 dollar and enjoy your first Legendary commander. It's a steal in my opinion!
Conclusion
The offer might expire eventually – as I said, I don't know if that's the case because I decided to take advantage of it and I don't regret doing so.
Probably the safest bet is to get it before you reach City Hall level 8, because it seems that's when things change in the game and if there's a moment when this special offer could disappear, it's then.
What do you think, though? Is this first recharge bonus a good deal or not? Let us know by sharing your comments below!