With the current world situation, Omegle has started to grow in popularity once more. This is an application and website that allows you to talk to random people using video as well. But is it Omegle safe or dangerous? We'll address these questions and more in today's article.
Omegle has been around for over 10 years now and even though it doesn't have the popularity or name recolonization like Facebook, Instagram or Snapchat it is still widely used. And it had its fair share of controversy along the way.
Launched in 2009 by Leif K-Brooks, Omegle allows random individuals to video chat. Initially, it was all text chat, but later on it introduced webcam options, as well as audio feeds.
Today, Omegle is growing in popularity due to the fact that social interaction has gone down the drain and we're spending more and more time at home, bored. But is Omegle the right website for you to visit?
Is Omegle Safe or Dangerous?
The problem with unmoderated chatting – especially when video is involved – is that you have no idea what your next match is doing.
In many cases, Omegle is used for shadier purposes similar to adult roleplaying or plain "look at me doing it" kind of content.
Currently, the Omegle chat is supposedly moderated and adult content is completely prohibited. This is easily seen on the front page of the website, as soon as you load it: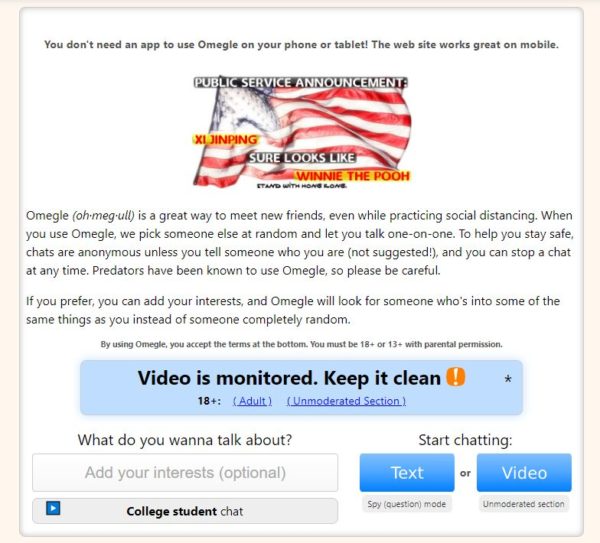 However, despite all these warnings and precautions, the risks are relatively high to meet a guy (it's usually guys, not women) who has some tension to release – literally.
But in order to keep Omegle as safe as possible, you can try the text mode only (and afterwards switch to video if all seems ok) or select the option that you are under 18 when accessing the site. Also, adding some general interests might help keeping the video feeds safe.
However, some of the conversions people have can be considered on the adult side and not suitable for all individuals. You also have to be aware of bots promoting themselves on other social media platforms.
And no matter what you do, there is always the risk of seeing something you don't necessarily want to see. If you want to see that – then Omegle is the best place to do it.
Is Omegle good for kids?
I would personally never let my child on the Omegle website. The risks of them seeing something they are not supposed to see, something they wouldn't want to see (and I wouldn't like it either) is too big in my opinion.
The nature of talking to strangers online, with video feeds is something that doesn't go well with children. I mean, we teach our kids not to speak to strangers in real life but we let them do it with random people over the internet? Better not, especially when random video feeds are involved.
Is Omegle text chat safer?
Unfortunately, not really. Many people believe that since Omegle is anonymous, they can send you explicit messages without a problem.
We cover the anonymity issue below. There are also many bots on the platform promoting adult sites, which don't make for a very safe environment. So when you start using the service, expect the chats to be raunchy at times.
But text chats are the safest of the bunch.
What's Omegle used for?
Omegle is a video chat site/tool, if you been online for a while, when AOL was around, its sort of similar to that, but with a video component added to it. Omegle is a chat tool that people who are looking to video chat with strangers use to connect with each other.
The site is built to be mobile ready, you do not need to download any apps to programs to use it. In order to connect to others on video you need to have cam operating.
They also have a chat portion which anyone can connect to and start chatting with random individuals.
If for some reason you are not interested in chatting with the person, you can click on the stop button in the lower left hand corner of the box, then esc and that will take you to chat with other individuals.
Remember that most girls visiting this website are actually bored and looking for meaningful conversations. Just very few of them are there to watch men release some steam!
Is there an Omegle app?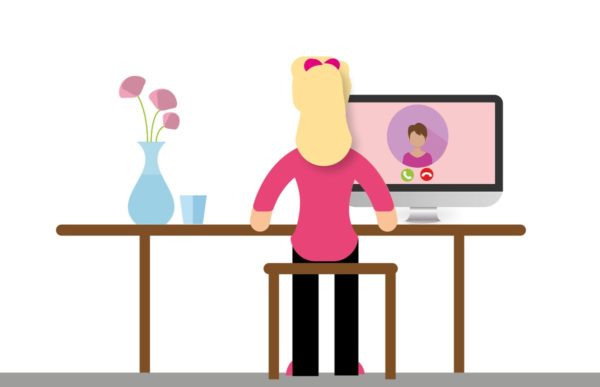 One of the nice things about Omegle is that you don't need an app to use the service, you don't need to download and install any programs. The site while built for the desktop also has web based versions available for mobile phones.
So it doesn't matter how you connect, they will redirect you to the correct version of the site in order for you to have the best user experience.
Omegle: Best Interests to Add
Talking to some of my female friends who use or used the app, I can tell you for sure that none of them used any "dirty" interests.
Most of them will use actual interests they have. And this is a good thing, because it will help you connect with people that share the same interests.
From writing their city (or at least country) as an interest to generic things, anything goes. Popular interests that will help you meet interesting people are music, singing, gaming, gamers, travel, nomad, fashion, fitness, sports.
This will help you connect with people that have shared interests – so make sure you actually have an interest in these keywords! Otherwise, just write what you are interested in!
Can someone hack me through Omegle?
Yes an No. Confused? We will explain. While the chances of being hacked through the website is very low or almost none unless the site is somehow hacked, which in today's time is not that rare occurrence.
The most likely way you would get hacked is by oversharing personal information with strangers. If you remain cautious while using the service, don't disclose any personal information or visit any links that they provide, your chances of being hacked are very slim to none.
So Omegle is not dangerous in in the sense that your computer would be exposed to hackers or virus types of dangerous.
Is the site anonymous?
Sort of. While you don't need to give your name, or any personal information to use the site. Omegla does archive your chat conversations.
Which means if you give any personal information to the person your chatting with, that information will be archived on Omegle's servers.
This is probably used to protect all users as much as possible and offer local and international authorities the required content should they need them.
Do conversations get saved?
According to security researcher Indrajeet Bhuyan, a person's chat conversations do get saved, even if your not the one saving the conversations, the company is saving them though.
What that means is that your conversations are not as private as you may have expected nor are they as anonymous as you may have wanted them to be.
What does that mean? It means you should use caution when using the site, you should be careful what you disclose to strangers, as you should be to anyone you randomly meet online.
However, we are doubtful that the video conversations are saved (or at least stored for a long period of time) because it's a ton of data so the sheer size would be huge.
What VPN works with Omegle?
Many people feel safer using a VPN, or have to use a VPN if the site is blocked by their ISP. When you look for which VPN to use, you want one that is fast, with a good connection and uptime.
Our research indicates that ExpressVPN fits that bill. Connecting through ExpressVPN will give you access to Omegle, but most other VPNs should work.
Conclusion
Omegle is a popular site that has been around for over 10 years, while fads in the internet space come and go, this one is standing the test of time. Largely due to never getting the super hype that other social sites received and keep doing it the same things that they did from the beginning – with some added security and control over time.
The site is fun to use and just like talking to any other random individual you meet online, if you use caution, don't disclose personal information, don't click on links then your experience is likely to be safe and fun.
If you're just into watching videos and wasting time – without the most of the risks associated to talking to strangers online, you can try TikTok.
Do you have other questions about Omegle? Let us know by commenting below!