Rebel Inc, the newest game from Ndemic Creations (the people behind Plague Inc) has just been launched on iOS and everybody wants to play the game. But with no official release yet for Android or PC, the question remains: how to download and play Rebel Inc on PC?
Although it is generally a bit more difficult to do so with iOS apps and games, it still is possible with the use of an additional software called an emulator. This basically turns your computer into an iOS device, keeping most of its capabilities when it comes to playing games or operating apps. The only potential problem is that you need to use the mouse instead of the touch display for controls, but with Rebel Inc that shouldn't be a problem.
So if you want to play Rebel Inc on PC, you can do so without paying for additional software. You will still have to purchase the game itself from the App Store, though.
Now here is the step by step guide to help you download and play Rebel Inc on your PC or laptops: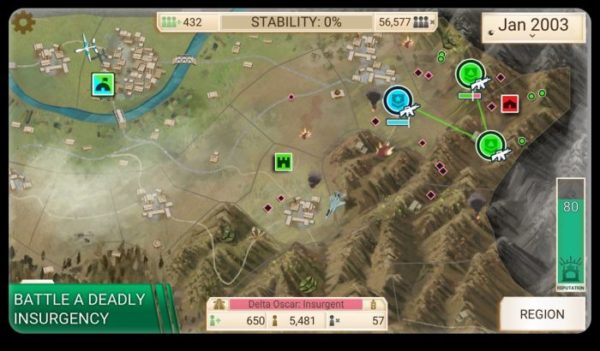 1. First, you will need to download and install an iOS emulator. There are a few options on the market, each with its own Pros and Cons, but we consider iPadian to be the best option. If you don't have it, therefore, download it and install it.
2. After installing the program, simply launch it and log in to your iTunes account. It's ideal if you already have one (and have purchased Rebel Inc on it already), but you can create an account for free if you don't have it.
3. After logging in to your account, simply tap the App Store icon within Ipadian and search for Rebel Inc. Install it on your virtual device and enjoy playing it on your PC.
This is it! These are the easy steps that you need to follow in order to download and play Rebel Inc on your PC. This is extremely helpful if you don't have an iOS-powered device and you simply can't wait for the Android or Windows release of the game, which will certainly happen sooner rather than later.
And if you are just getting started with the game, don't forget that we have already published an article on how to play Rebel Inc and win the game. Enjoy!
If you have other questions or you found a different emulator to work better when it comes to playing the game on your PC or Laptop, let us know by commenting below.