So, you're not really satisfied with the nation you have chosen to play as in Rise of Kingdoms, or you simply want a change? In today's article, we're going to share with you a complete guide on how to change your civilization or nation in the game.
In order to make sure that you make the right choice this time, you can also check out the previous article on what civilization to choose – I shared there all the details on all nations in the game, as well as my thoughts on which is the best one.
New nations have been introduced since the game was launched and you might want to give them a try.
Actually, your reasons don't really matter: as long as you want a change, you can have it!
So let's move on to today's topic: how to change your nation / civilization in Rise of Kingdoms (formerly Rise of Civilizations).
1. First, you will have to tap your profile picture in the upper left section of the screen.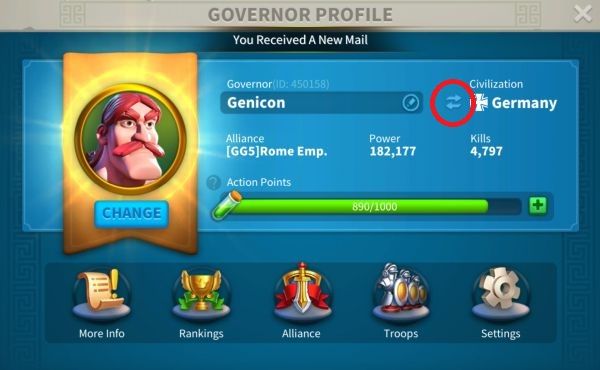 2. In the new window, tap the two arrows near your current civilization.
3. You will be taken to a new window, where all the civilizations will be listed. Simply select the one you want to switch to:
As you can see, changing your nation in Rise of Kingdoms is really expensive: 10,000 Gems is a lot of money, so only make this change if you really feel or know that your current one is no longer needed.
Otherwise, it's best to stick to what you're playing as currently and put those gems to good use somewhere else.
Will you keep your commanders after changing civilizations Rise of Kingdoms?
This is the question that gets asked the most by people who want to make the switch. Fortunately, all your commanders will remain the same and at the current levels.
Not even the starting commander will be changed. So, for example, if you haven't unlocked the starting commander for the nation you're switching to, you won't receive it and still get to keep the one you already have.
Will you keep your current level and buildings after changing nations in the game?
When changing civilizations, you're only changing the boosts and bonuses you're getting, as well as the actual design of the buildings.
Everything else remains where you were at before the change. So this is not a reset or restart of the game, just a simple change that doesn't change anything but the bonuses you get from the current civilization.
And this would be all! You know now everything about changing your civilization in Rise of Kingdoms. Make sure you really need to do this, because it is expensive though and the differences and boosts might not be worth all that money!