If you want to save messages that you exchange with friends on Kik, there is definitely a way to go about doing that. You will find that having this sort of setup can be very useful if you want to look back on/refer to conversations you've had in the past for whatever reason.
Those who do not set up their accounts to archive messages usually end up regretting it later on when they cannot get back their conversations because they're lost forever.
What Messages Kik Saves
Kik Messenger saves the last 600 entries (both saved and received) in the last 48 hours on Android devices, and the last 1,000 messages from the past 48 hours on all iOS devices.
This app saves up to 200 entries for older messages on Android devices, and up to 500 older entries on iOS devices. Although you might be inclined to not archive your messages because this sounds like a lot, it is still a good idea to do so, especially if you use this app a lot.
The messages you send can quickly get buried and disappear forever when you send a lot of them on a regular basis, which is why it's such a good idea to consider setting up your account to archive them.
Options available to save Kik Messages
The first option you have when it comes to saving messages on Kik Messenger is to simply cut and paste them.
You can use the same basic cut and paste functions that you use in your email or notepad with this instant messaging app. You will need to first go into this app and open up a conversation with messages in it that you want to save.
Tap and hold on a certain massage and you will see a popup window with the options "copy" and "delete." You can choose the "copy" option and then paste it in a Microsoft Word or Notepad document.
While it is true that the copy and paste method of saving Kik messages is a bit tedious and time consuming, it is also effective. If you want to archive an entire message stream on this app, you will definitely need to at least consider using this method.
If you want to speed up this process, you might want to skip copying smaller messages that only contain things like "lol" or "yup," so that you only spend your time copying ones of actual substance.
Another option that you are going to have when it comes to saving messages on Kik is to do a screen capture. All modern Android and Apple iOS devices are capable of taking a snapshot of your screen.
You will be able to take a snapshot of your screen by simply pressing the wake or sleep button and "home" button at the same time—hold these buttons until you hear the camera shutter sound that indicates the screenshot has been taken. The screenshot will be saved to your device in your Photos app, so you can access it any time you want.
Best Method to Save Short Kik Messages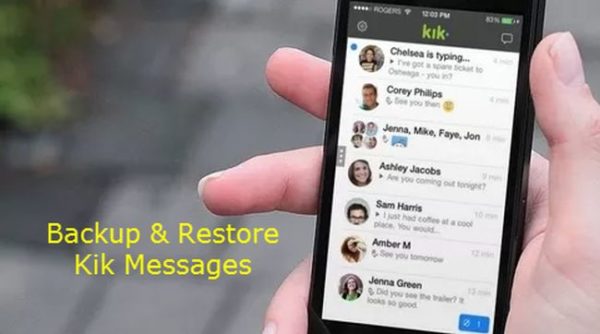 This method is definitely best for shorter message entries, so you will need to keep that in mind. If you just want to save a series of shorter messages in a conversation with someone on Kik, you might want to consider taking screen shots so that you can refer to them later on.
This can be especially beneficial if there is some sort of debt or something else in dispute with another person. By taking a snapshot of the conversation, you will be able to have some sort of proof or evidence to refer to later on if you end up going to court over the issue in question.
If you are planning to archive an entire message stream using the snapshot method, you should definitely think about the filing system you use.
Make sure that you include the exact date of the chat as well as the name of the person the conversation is with in the film name for each conversation snapshot. By doing this you will have a much easier time finding the conversations/snapshots that you want or need later on.
Third Party Apps to Save Kik Messages
There are also a number of different third-party apps that you can download to archive Kik messages, but they will all require you to jailbreak or root your device.
While doing this might not seem like a big deal, it is important to keep in mind that doing so will make your device more vulnerable to viruses and spyware.
A lot of people root or jailbreak their devices in order to download these kinds of third-party apps, but you should be fully aware of the risks before deciding to do it.
If you decide to root or jailbreak your device, you will want to make a point of taking the time to look for the best third-party app for archiving Kik messages.
There are going to be quite a few different third-party apps that you can use to do this, but it's important that you do not use just any of them. Instead you will need to make a point of looking up some of the options you have online so you can select the very best one of all. In the end you will be glad you took the time to do this research.
While it's true that there is no official "Save" feature for archiving messages on Kik, those who use this app on an iPhone or iPod Touch will need to keep in mind that it will save the last 1,000 messages in a conversation that has been around for 48 hours. When your conversation becomes older than 48 hours, this app will save the last 500 messages.
This archiving of messages is not automatically, so you don't actually have to go into the settings to change anything at all. Those who use a Windows phone or a Blackberry will find that Kik saves the last 100 messages with each individual conversation.
It's important to keep in mind that deleting or resetting your Kik account will result in all of your auto-saved messages being deleted. Kik does not save the messages to your device, so you won't have them anymore if you decide to reset or delete your account.
Why Save/Archive Kik Messages?
There are quite a few different reasons to archive messages on Kik Messenger, such as if you have a conversation with someone about a legal matter and might need to refer to it later on.
If there is a debt someone owes you, it might be a good idea to save the messages you exchange with them in case you need to use them later on in a court of law. Some people also choose to save messages with friends and family members just so they can look back on them fondly over the years.
Whatever reasons you may have for wanting to archive your Kik messages, there are a number of different ways to do so. And while there might not be any official setting in the Kik app that allows you to archive as many messages as you want, you will need to keep in mind that it does save a certain number of recent messages.
After the maximum number of recent messages is up, they are deleted and replaced with new ones.
You will definitely need to make a point of exploring some of the different methods of saving Kik messages so you will be able to do so with minimal frustration or effort.
Some of these techniques are more effective than others, so you will want to keep that in mind. Whether you choose to copy and paste or take screenshots, it's important that you weigh your options before making a final decision of any kind.
A lot of people have been asking about whether or not there is a function within the official Kik app to save/archive messages, but the fact is that there isn't one yet.
If you using this app on an Android device, it's important to keep in mind that all conversations that are older than 48 hours will only have a maximum of 200 messages in them. If you want to save your messages, it is highly recommended that you do so as soon as possible to avoid losing them forever.
In Closing
Saving your Kik messages can be a great idea for a number of reasons, but it's important that you make a point of looking into some of the different options you have.
While the ability to archive messages might eventually be an option that you can choose from in the Settings of Kik Messenger, that is simply not the case right now.
It is highly recommended that you take as much time as you need to explore the various techniques for saving Kik messages outlined in this article. The more time you take to review these options, the better of a decision you will make. Remember that there is more than just one way to save the conversations you have with people using this mobile app.