There's a fire in Lego City and it's up for you to stop it. Actually, wait! There are a lot of fires starting in the brick city and you have to stop them all as fast as possible. This is the concept of LEGO City Fire Hose Frenzy for iPhone and iPad. But is this title hot or it burns off too fast? Read on this review and you will find out!
The big shock for me was that the game directly sends you into the action without a story, a intro of sorts and without a proper tutorial. Of course, the complexity of Fire Hose Frenzy is not huge and the basic concepts are the same, but for some reason the way this game starts makes you feel that you're playing an unfinished product, which is never good.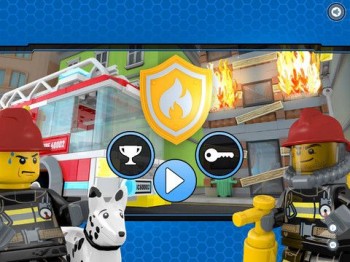 However, the bad things kind of stop here and LEGO City Fire Hose Frenzy proves to be a really high quality product. You have challenges that you will complete in less than one minute each (probably) that deal with putting off fires: sliding your finger on the screen of your device controls the direction and height of the water flow from the fireman's extinguisher and you have to move as fast as possible to put off all the fires in order to get the three star rewards in the game.
There are even bigger fires in LEGO City Fire Hose Frenzy, when you will be controlling a helicopter or humongous fires where you will need to control the fire truck. So you have enough variety in terms of firefighters and the same can be said about the levels: they are also pretty challenging and rarely I managed to get the full three stars after the first play of the level, which means that there's also a lot of replay value in this game.
The controls work very well and I never had any problems controlling the water flow, but there are some minor problems with the aiming – the fact that you sometimes have to direct the water to a very narrow spot of the fire (the middle) in order to be able to put it off. This adds a bit to the frustration but also to the challenge, so I'm not sure if this is a bug or actually a feature to make this game more difficult.
All in all, LEGO City Fire Hose Frenzy for iPhone and iPad is a good game that puts you in the shoes of a firefighter (and I am sure many of us wanted to become one when we were kids), offers many and varied challenges which are enough to keep the game exciting to the end and some simple yet complete and, most important, flawless touch controls, all adding up to a good game for the puzzle game lovers.
Click here to get LEGO City Fire Hose Frenzy from iTunes for free.