One of the most annoying things about iPhones and iPads is their limited storage capabilities. It is almost frustrating to know that the most affordable models offer just 16GB of storage – which is insanely low today – and that neither the iPhone, nor the iPad offers any way to easily increase your storage by traditional means (like a SD card). Fortunately, there are some more unconventional and recent methods that allow you to increase the storage space of your iOS device up to terabytes, which is pretty impressive. And I am here to share with you all those methods!
So let's not waste time, and let's check out below how to increase your iPhone or iPad storage without buying a better device or spending a fortune!
1. Free approach: empty space!
Although this is not what you want when looking to increase storage on your device (nor the point of this article), it's the first thing that you should do: free up the space by deleting unwanted apps, videos, music and photos. It's actually photos, videos and music that take up a ton of space on your iPhone or iPad, so if you can manage those, you'll most likely have no storage problems.
But sometimes you just need more and fortunately, there are ways to actually increase your storage and not just manage what you already have. Here are the great options which are not ideal, but are better than having no option at all!
2. Wireless card readers / Media Hubs
This is the most convenient method of getting some extra space for your photos, movies, music and more. We're basically talking about an external device which connects wirelessly to your iPhone or iPad and allows you to store files on them on its SD card (which means that you can get up to 256GB of storage space). They are extremely easy to use: just install the card reader's companion app, connect it wirelessly to your device and access the files on it (transfer or stream them) instantly.
One extremely important thing to take into account when getting such a Media hub/card reader is to make sure that it has a pass-through option, meaning that your device can stay connected to a Wi-Fi network while simultaneously connected to the reader. If such an option is not available, things get a lot more complicated, because you will have to disconnect from your Wi-Fi network, connect to the Media Hub and when you stop using, disconnect from it and reconnect to your WiFi. So save yourself from this trouble and get one that can work together with the Wi-Fi network!
A good product for this purpose would be the cheap RAVPower File Hub which can be found on Amazon here and is considered by many the best product of its kind. You will love it, as it also doubles up as a portable charger and a wireless hotspot!
3. Wireless hard drives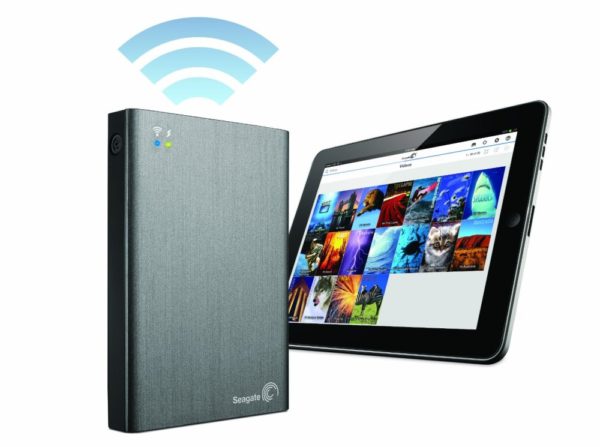 If you have a bit more money to spend and you're not afraid to carry a bit more weight, you could go for a Wireless portable hard drive. The bonus of such a drive is that it can offer 1-2 TB of storage space and that should be more than enough to last you a loooooong period of time. Just like with the media hubs recommended above, when you purchase a wireless HDD, make sure that it has a WiFi pass-through option to allow you to connect it to your iOS device while it's also connected to the internet.
If you don't want to search for the products yourself, I can easily recommend this wireless HDD from Seagate.
4. Flash Drives
Not the best of the non-ideal options, but still an option. There are several USB flash drives that you can pop into your iPhone or iPad to get 16 to 64 GB of extra storage space. However, these are probably the most difficult option because not only they take up the only option you have to recharge your device, but it's also pretty difficult to use your device while the flash drive is connected. However, if you have no other option, this will work fine. And in terms of recommendations, you can try the Leef iBridge for some extra storage space.
Any option that you choose from the ones listed above will indeed increase your storage, but each has its limitations and disadvantages. For example, no apps can be stored on such a device: so if your storage problems are caused by the size of your apps, there's not much you can do. But if the storage problems are caused by the ton of photos, videos, music and movies you have or want on your device, any of the products recommended above will do the trick and save the day.