Let's check out some Omegle alternatives, for those who are looking for a new mobile app that allows them to chat (video or not) with strangers. They're all free and amazing!
If you don't want to go through the entire article and read why I recommend each app, here is a short list of my top choices:
Chatous
Holla
Azar
Rooit
MeowChat
Omegle is a perfect app for those who want to video chat with strangers – and it was my top choice for a long time – but the truth is that now there are better and more popular alternatives available for download.
Omegle also became somewhat infamous over the years due to the risks of you ending up seeing something you might not want to see.
But, truth be told, that's the risk with any of these platforms (and sometimes what some are actually looking for – I'm not here to judge).
I wrote an in-depth article about this here – make sure to check it out as well if you don't know what I am talking about.
So let's not waste a single second and instead let's check you the recommendations below!
1. Chatous
Chatous is a free messaging service that allows you to make new friends through your phone, based on shared, common interests.
Unlike Omegle, it doesn't offer video chat options, making it a lot safer in terms of the content that you see – although it's not entirely safe since photos can be shared between people.
But there are always risks and the truth is that not everybody is out there willing to send you photos you don't ask for. It's usually traditional messaging and nice chats to be had on this app. Give it a try!
You can download Chatous for free from the App Store or Google Play.
2. Holla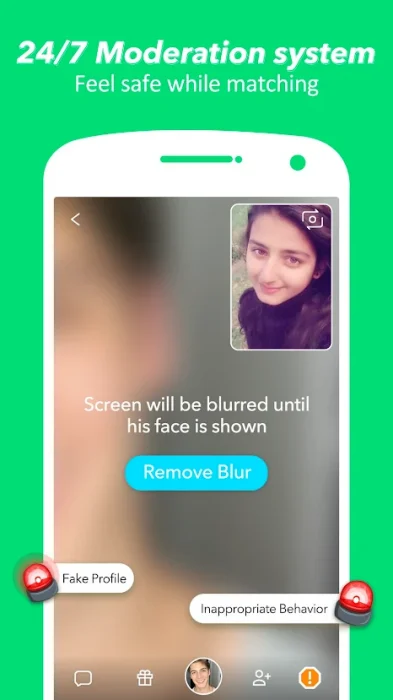 This is a mobile app like Omegle that provides users with an anonymous chat room. The best thing about it is that it has a feature that blurs the screen if the person you're talking to is not showing their face.
You can unblur this with a single tap – so you have full control of what you see. A great feature that would probably make all apps of this kind a lot safer!
Another great thing about Holla is that it uses photos to identify users, so you know exactly who you are talking to before entering the chat room (although, of course, photos can be faked).
Additionally, Holla lets users block other people if they start causing trouble or doing something you don't want to see during a chat session, which is always welcome in the crazy world we're living in today.
Holla is available on Android only.
3. Azar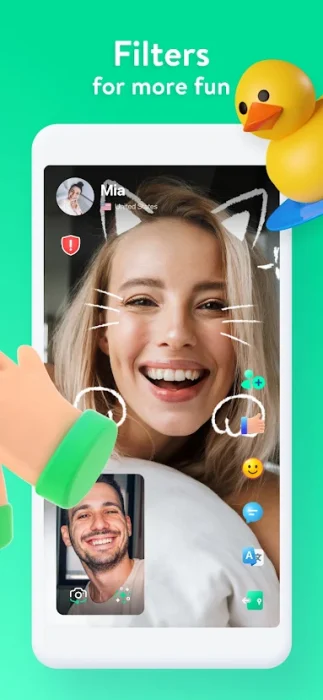 This mobile app offers video chatting with strangers from all over the world, being probably the one that is most like Omegle.
However, on Azar you can also create group chats and chat with multiple strangers at a time. More people, more fun and definitely more opportunities to meet amazing people. A nice touch!
Also, you can watch live streams, create your profile and consider yourself as safe as possible. The app is actually rewarding its members for reporting inappropriate behavior, so it's also one of the safest when it comes to content that might not be safe for work.
You can download Azar from Google Play or the App Store.
4. Rooit
If you are looking for a mobile app like Omegle that makes it possible to chat 100% anonymously, then Rooit is the way to go because users do not need to upload any personal information in order to get started with this service.
Rooit provides users with anonymous chat rooms that are safe places to talk to strangers, but you can still upload a selfie if you want to and actually make friends based on your personal interests.
Please have in mind that there is no video chat available in this app – it's all text based! But really fun, I guarantee!
Rooit is available on both iOS and Android.
5. MeowChat
This app feels like an interesting combination between Tinder and Omegle. You can go and video chat 1-on-1 with strangers, but also find local singles that are bored and active on the app, making a potential real life meeting easier if all things go well.
I have to admit that when I tried the app, there seemed to be relatively large number of bots and fake profiles here (like in most similar apps), but if you pay attention a bit, you can still find real people and have a great time.
This app has plenty of features and the real people are really nice – plus, you get the added bonus of being able to search for people in the vicinity and SEE them before you meet them, which is a major bonus over Tinder.
MeowChat is available on both Android and iOS, for free.
Conclusion
Omegle is not the only app that allows you to chat with strangers on mobile. And if you want an alternative or simply want to test out some other similar ones on the market, I'm here to help.
The best part is that my recommendations, as you saw for yourself, don't just try to copy the original Omegle, but also bring something new to the table.
And while they're always the risk of any of them not being family friendly, I am sure you'll love them. Maybe even more for this reason alone.
You have the top five alternatives above and I am sure you will find each one worth trying.
These apps offer a wide variety of unique features to make sure users have plenty of choices when it comes to live video chatting with strangers from around the globe and making new friends or at least meeting new people.
If you have other recommended apps, don't hesitate to share them with us in the comments section below!