Even though I don't have a ton of money invested into various tokens out there (unfortunately), I want to keep track of my cryptocurrency portfolio with a mobile app that tells me one important thing: what are my profits or losses for that particular token.
And eventually send me some notifications if anything out of the ordinary happens, so that I can maximize profits and minimize losses.
This seems like the main thing that every token owner wants, but strangely, it appears that it's a pretty difficult thing to deliver as not many applications for tracking cryptocurrencies offer that at the moment.
Most of the cryptocurrency portfolio apps that I have tried over the past couple of weeks usually show you just the gains or losses of a particular token for the past 24 hours or pre-defined numbers. This is better than nothing, but it still doesn't give me a clear overview of MY profits or losses.
What I need – and what I am looking for in a portfolio tracking application for mobile – is comparing the amount I spent when I purchased that particular token with the current price on the market. I think this is what everybody is interested in, because that is all that matters in the end.
But, strangely, I don't have a lot of luck finding such apps that work flawlessly with all the exchanges out there. I did manage to find some good apps though and I am here to help you get a head start in tracking your portfolio by sharing them with you below.
So here are the best mobile apps for tracking your cryptocurrency portfolio (all of them free of charge!).
Blockfolio
Probably one of the most famous cryptocurrency-related apps on mobile. I am using it a lot on my phone and I really like it.
It has been updated continuously over the years and has now grown to be an exchange app as well… but we're only looking at its portfolio tracking capabilities, which are top notch.
It shows your overall portfolio value and gains/losses for particular tokens for predefined periods. It can connect directly to various exchanges out there for live updates and honestly, if you are like me – once you install it, you will never need to use a different app.
I've been using this one since 2017 without any problems whatsoever.
It is also allowing you to set up alarms for any token out there. Basically, if you want to know when the price of a specific token gets to a specific number, you can set an alarm. This means that you can then quickly go buy it or sell it for that price. It's good for trading, not so much for those who hodl.
But all in all, Blockfolio is a really solid app that offers a lot for cryptocurrency enthusiasts and it's available for free.
You can check out Blockfolio on Android and iOS.
Coinfolio
I recently started using this app, so I don't have a lot of experience with it, but for the testing that I've done, it looks like a really good app. It has over 1,000 tokens it can track and shows price changes on predefined dates.
I also love the fact that you can easily switch from showing prices in BTC and USD (or other major currencies), making it easier to follow everything and know your portfolio's value in terms of fiat currency as well.
Certainly an app to keep an eye on since it has a lot of potential and so far moves and feels extremely good.
CoinFolio is available for free on Android and iOS
Coin Stats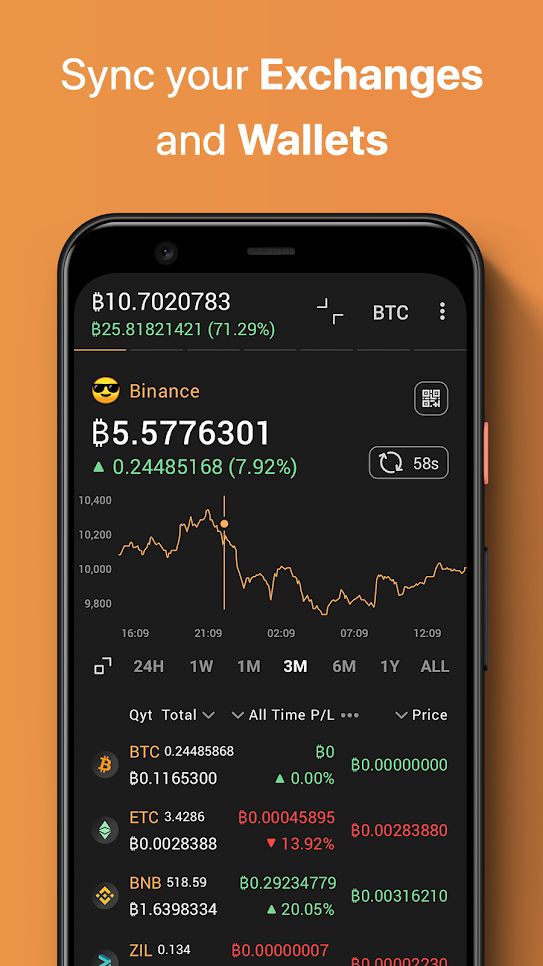 A very popular portfolio tracker that has been growing and developing nicely over the years.
Currently, it is tracking over 8,000 altcoins and over 300 exchanges, so we can safely say that it can track all cryptocurrencies out there.
You can connect it to your exchanges for live updates of your tracker and you can also follow the news in the crypto world thanks to their app.
It also supports the alerts option, so whenever a coin you follow reaches a specific price, you can get a notification and quickly act. All in all, a really good portfolio tracker app that you will instantly fall in love with.
You can download Coin Stats for free on Google Play or the iTunes Store.
These would be the ones I have found so far, but there are a ton of other apps out there so I might have missed a solid one.
If you know of similar high quality apps that let you track profits and losses based on the acquisition price when you bought those specific tokens, please share them with us below.