I still remember the adrenaline and how my heart was racing when I was close to scoring, for the first time, 1010 points in the 1010! game for iPhone and iPad and my surprise when I saw that I could keep going forever. Or until I got stuck.
Either way, the idea is that in 1010 your main goal is to get the highest possible score and in order to get there, we've decided to come to your aid and share with you some 1010 cheats and tips for the perfect score.
As you probably know already, the game is extremely difficult and you will get stuck, eventually. What you must do, though, is to do your best that you get stuck after scoring as many points as possible. We're here to hopefully help you achieve that so read on for our 1010 tips and cheats!
1. Prepare for the worst
Most of the times I get crushed because I have no place to put that horrible 3 by 3 square. Lesson learned, so at all times I am trying to have at least one spot empty in case I get the humongous piece. I don't think you will ever get two in the same series, but you can get two in a row so ideally you will always have two spots for the three by three piece.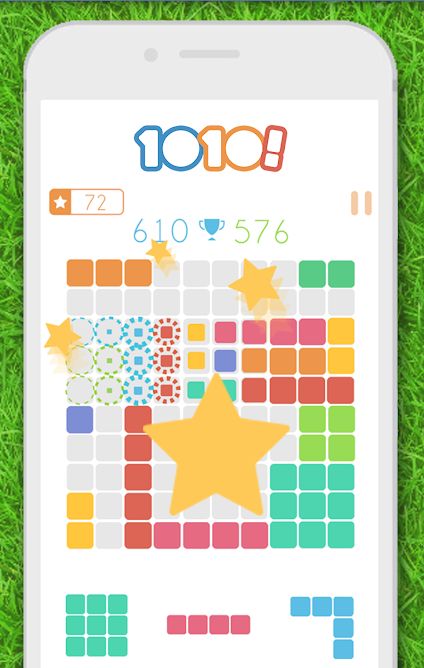 Also, the single 5 squares long piece can prove pretty difficult to fit in later on, so have it in mind as well.
I know that is impossible, eventually, to be prepared for these difficult pieces, but always have this in mind!
2. Make rows vertically or horizontally
It took me a while to realize that I don't have to go for horizontal lines only, so if you didn't get there, let me make things a lot easier for you: you can also create vertical lines! Great to know if you want to get the extra hand in beating your previous high score!
3. Pack your board
It might sound like the riskier approach, but I found that it's easier if you pack your board with pieces and wait for the perfect one to remove a few rows rather than focusing on one row at a time.
If you adopt the latter strategy, you will eventually have so many empty spots on your board that you won't have any place left for the big pieces.
4. Build from the margins to the center
We tend to usually let the margins empty, waiting for the perfect piece which will rarely come. This is why we recommned building the other way around: from the margins towards the center, as this gives you more options to create matches.
5. Keep playing
You might have all the strategy in the world, but if you don't have a bit of luck, you won't get too far. So don't let yourself get discouraged by a poor game and keep on playing having our tips in mind: eventually, you will surely get a super high score to be proud of!
So these would be our tips and tricks for 1010. Do you have other strategies that could help fellow players? Let us know by commenting below!