The trend of text messages is long gone and now, we have a more flexible, interesting, and user-friendly option: WhatsApp. WhatsApp is a free app that allows you to have endless chats, make calls, and send pictures and videos.
There are many little Whatsapp tricks that allow you to better utilize the app. We will cover 10 of the best below and we won't include the option to tag friends in a group chat, because that is annoying.
WhatsApp started as a small app and now, it is one of the biggest and most popular messaging apps used by people. It has more than one billion active users around the world, and this number is still growing.
Have you ever imagined how difficult your life would be without this messaging app?
Without it, how would you make plans, go on holidays, share pictures and videos with family and friends, and discuss important matters?
We have various Pros and Cons of using WhatsApp – this makes sense, since we can find advantages and disadvantages anywhere, but in this case, things are generally good.
There are numerous features and tricks hidden in this app, and we will make sure that you get to know about them to make the fullest use of WhatsApp. Take a look at the most useful WhatsApp tricks so far!
1. Find out who your closest friend is
It's not the years or secrets that show who your closest friend is; it's how much you WhatsApp them.
If you have a best friend, your friendship can't be complete if you don't WhatsApp them to gossip about something, share secrets, tell about your crush, or make plans. A friend circle is incomplete without having long and interesting chats on WhatsApp.
The good news is that WhatsApp will easily let you find out who your closest friend is, and we'll tell you how to use that hack. To know about the person you talk the most on WhatsApp, take the following steps:
Open your WhatsApp app and go to Settings.
Tap the Account option where you'll get a list of options such as Privacy, Payment Info, Change Number, etc.
Tap the Storage Usage option.
The storage usage will give you the total number of messages you've shared with your friends and family. On the top will be the name of that person with whom you've talked the most on WhatsApp.
The above trick is for iOS users. If you're an Android user, follow these steps:
Go to the Settings of your WhatsApp.
Tap the Chat option and go to Chat History.
Select Email Chat, and you'll get a list of your most frequently used WhatsApp contacts.
2. Read your messages without letting the sender find out about it
WhatsApp lets your senders know whether you've read their messages or not. If you have read the message of the sender, they will see two blue ticks on the side of the message. Sometimes, people want to hide that they have read the messages of their senders.
This feature is helpful if you're in a hurry and don't want to respond to unnecessary messages at that moment. If you also want to read your senders' messages without letting them know about it, try this trick:
Go to the settings of your phone and turn the flight mode on.
Read the WhatsApp messages you have received.
Now, turn off the flight mode.
No blue ticks will appear on your sender's screen, and they will not know that you've read the messages.
Using this trick, you can easily read important messages and respond to them and read and ignore the unnecessary ones. This hack is useful when you don't want to reply to your friends but don't want to hurt them at the same time.
Some people also have a habit of replying late to make them appear busy; this trick can also work for them.
However, if you are simply disturbed by the read receipts, you can turn them off permanently by going to Settings->Account->Privacy, and then toggle the read receipts option to turn it off.
3. Send your message without typing
Sometimes, typing long messages can annoy you, especially when you're in a hurry. This WhatsApp hack will do the job for you. You can now send your messages without typing them.
Hence, if you're driving, jogging, doing errands, or busy at the gym, you can use this trick to send messages to your contacts. Follow these steps:
Tap on the message box on WhatsApp that appears when you open a contact's chat.
You will get the keyboard to type, but you need to tap on the mic icon on the keyboard.
Click on that mic icon and speak your message.
The message will be automatically typed as you are speaking.
Let us remind you that this mic is not the one that appears on the side of the message box on WhatsApp. That mic is used to deliver voice messages, while this one appears with your keyboard and is used to type voice messages.
4. Recover important deleted messages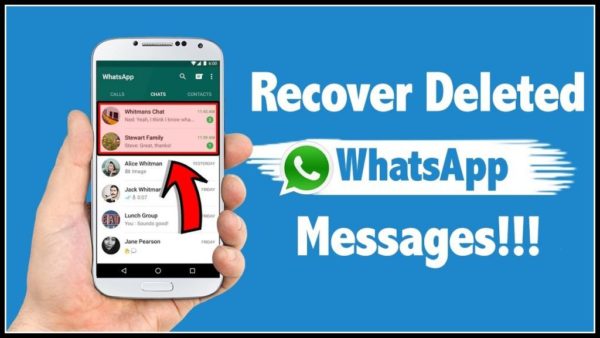 Sometimes, you might accidentally delete some important messages in your WhatsApp conversation, and then you regret doing so. This mostly happens when you tap and hold on to the message to forward it or copy it and accidentally tap the delete button on the side.
Most people who use WhatsApp are unaware of how to recover their deleted WhatsApp messages, so they ask the sender to send the message back. However, if you don't want to disturb the sender, you can bring back your deleted messages in another way.
To avail this trick, you must have the daily backup for your chats set up. WhatsApp saves the messages you have set up as a backup for your favored chats. These messages are saved daily to the cloud by WhatsApp.
Now, if you have deleted some of your important messages by mistake, you can easily recover them by re-installing the app.
This trick is useful when you have to send some messages to someone else, but you have already deleted them for some reason. Hence, if the messages are vital to you and you want to recover them, you should try this hack and save your day.
5. Use bold and italics to prove you're cool
WhatsApp is a fun app, and it keeps entertaining it users with lots of features. Most people are unaware of the interesting features and hacks because they just use it to send messages and videos and make calls.
You can use this feature to show the intensity of your feelings to your friends by using bold and italics in your texts.
Using this hack, you can prove the urgency of your message to your friends and add italics, bold, and even strike through words. However, using this trick is not as easy as tapping an option; in fact, it requires a command to do so.
To make the specific words stand out from the other words in the text, you have to surround those words with a command. Following are the commands that are used to make some words stand out from the others:
To bold a word, you'll have to use an asterisk before and after it. For example, if you want to bold the word 'now,' you will type it like this *now*. When you tap the send option, it will appear bold in the message.
To bring a word in italic form, you'll have to use an underscore before and after it. For example, typing _now_ will make the word 'now' appear in italics.
To use a strikethrough, you'll have to use the squiggly hyphens. Typing ~now~ will make the word 'now' appear with a strikethrough.
You can also combine the different commands to make your message cooler. For example, if you combine bold and italic commands and write *_now_*, the word 'now' will appear both bold and italic.
6. Create shortcuts to your favorite WhatsApp contacts
You can also create shortcuts to those contacts who you need to talk to frequently. This feature will save your time as it will allow you to send a message or make a call to your favorite contacts with just a single tap.
Instead of going through many taps to reach your contact, you can add a shortcut and send a message or make a call immediately. However, this feature is available for Android users only. To use this hack, follow these steps:
Go to your WhatsApp contact for whom you want to create a shortcut. Remember that you don't have to open the contact; just keep it in your view.
Tap and hold onto the contact, and select it.
When the tick mark appears on the contact, tap on the 3-dotted lines on the top right corner, where you'll get a menu.
On the menu, tap on the 'add chat shortcut' option.
This shortcut hack will make the display picture of that contact appear on your home screen. Hence, if you're in a hurry, you can easily tap on that shortcut, which is the WhatsApp display picture of your contact. You can then send a message or make a call with just a single tap.
7. Hide your chats from others
If you don't want others to check your WhatsApp messages, you can use this trick to hide your private chats.
There can be many reasons why you want to keep your messages secret from others (for example, you may be planning a surprise party), and most people put a lock on their mobile phones to do so.
However, there may be some situations in which a lock will not be of much use, such as if you are using WhatsApp while someone is with you.
If you want to hide messages, you can keep them private even if a lock is of no use. The trick is available for the latest iOS version, and that is 2.16.6. To hide the chats of some particular contacts, follow these steps:
Open WhatsApp and get to the main screen.
You will see all the chats on your screen.
Go to the contact whose chats you want to hide.
Swipe the contact to the left and select Archive.
When you select the Archive option, the chat will be hidden from the main screen when you open your WhatsApp.
The chat conversation with this contact has been shifted to the 'Archived Chats' folder, which can be obtained by swiping up on the main screen.
You can also follow the same procedure if you want to hide a group chat. If you want to go back to those group chats or one-on-one conversations, you can open the archive folder and view them. You can also bring those conversations back to the main screen anytime you want.
If you don't have this version of iOS in which this feature is available or you are an Android user, you can follow these steps to hide your chat:
Open WhatsApp and go to the main screen where the contact's chats appear.
Tap and hold the contact you want to hide.
When the contact gets selected, a green tick mark will appear.
On the top of the screen, you'll see the symbols for a few options like delete, mute, and archive.
Tap the Archive Chat symbol to hide your conversation with that contact.
8. Use WhatsApp on your desktop PC or laptop
This WhatsApp hack is a very useful one. There are times when you are working on your PC or laptop, and you feel annoyed by your mobile phone ringing frequently because of WhatsApp messages.
While you want to keep updated with your friends and family, you also want to concentrate on your work instead of switching back and forth from your laptop to your phone. To avoid this hassle, you can use WhatsApp on your computer easily.
You can also use this feature to send files from your desktop PC to your WhatsApp contacts in an easy manner. Instead of transferring that file to your mobile and then sending it to your WhatsApp contact, you can use this hack.
WhatsApp has now introduced a new feature that allows you to use the messaging service on your computers. To use this hack, follow these steps:
Open WhatsApp and tap the dotted line on the top right corner beside the search symbol.
You'll get a menu in which there is an option of 'WhatsApp Web'; tap that option.
WhatsApp will ask you to visit web.whatsapp.com on your PC and scan the QR code.
When you scan the code, your WhatsApp can be accessed on your computer too.
To log out, go to the WhatsApp Web option from your mobile and select 'Log out from all computers.'
9. Know exactly when your message was read
While people might escape the blue tick scenario, they can't escape this. If your friend has disabled the option of blue ticks, you can use another method to know at what time your friend read a particular message.
This trick can also be useful in situations when you are not using WhatsApp for a few hours, and you want to check when your friends or family members read your sent messages and why they didn't reply yet.
To do so, you'll have to tap and hold onto the message for which you want to check the time. When you do so, you'll get a pop-up menu on the top which includes other options such as delete, copy, or forward the message. Tap on the 'i' symbol on the top, and you'll get information about when the message was delivered and when it was read by the recipient.
10. Make important messages easily accessible
Sometimes, it gets very annoying when you try to find the messages that were important to you.
For example, if you have a lengthy conversation with your friend and you want to find something important but can't remember it, you'll have to scroll through 200+ messages to get to it.
You can use the search bar option to find that message, but that can only be done if you remember exactly what you're looking for. To avoid all this hassle, you can make the important messages easy to locate in emergency situations.
Some people even have important numbers saved in WhatsApp conversations which they couldn't save at the time.
To make the important messages easily accessible, tap and hold the message you want to save. On the pop-up menu present on the top, tap the star symbol which is used to save starred messages.
This message will be saved to the 'Starred messages' folder. This folder is easily accessible and is present just above the settings option.
Wrapping Up
WhatsApp is already very user-friendly, and beginners don't find any difficulty using it. However, with the passage of time, many tricks and hacks have come up which many people are unaware of.
From keeping messages private to preventing unnecessary and awkward interactions, we have compiled the ten basic WhatsApp hacks and tricks that will turn your WhatsApp experience much more convenient.
So, this was the list of 10 WhatsApp tricks that everyone must know to make their WhatsApp experience better and their life much easier and hassle free.